Cosmetic Light and Laser Treatments
What to expect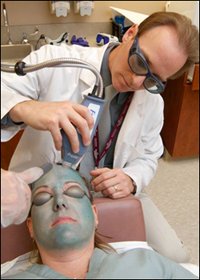 During your consultation, your physician will conduct an examination and discuss your medical history, lifestyle and your expectations to find which cosmetic laser surgery is best for you. Information will be provided to you about the cosmetic procedures being considered, along with a clear explanation about the risks and benefits of surgery.
Is laser surgery safe?
Laser surgery has been performed for decades. Today's technologically advanced lasers can be adjusted to deliver safer, more effective doses of energy to your skin.
Laser surgery for the skin and veins is an outpatient procedure performed in a medical setting at the Henry Ford Center for Cosmetic Surgery. No general anesthesia is required; local anesthetics may be used, as necessary. Any surgery has the risk of infection. You may be given an antibiotic to prevent or treat a bacterial infection.
What are the side effects of laser treatment?
Some laser treatments may cause pigment changes and will be adjusted by your physician to minimize that risk. You may experience redness, swelling and light bruising following laser surgery. This usually goes away over time. Laser and light treatments for your face may trigger an acne break out, and your physician may recommend a treatment regimen. Small white bumps called milia may also appear on the treatment area but can be removed with gentle cleansing.
If you are prone to cold sores, laser therapy around the mouth can trigger a flare up. Your physician may recommend an antiviral medication before or after surgery.
How soon will I see results?
Your results depend on the type of laser treatment and the condition being treated. You may notice benefits right away, or it could take a few days or weeks.
A treatment plan will be discussed at your first consultation. Some conditions may require more than one treatment to achieve the desired outcome.
How long will my results last?
Your outcome will depend on several factors, and results may or may not be permanent, depending on your type of treatment. If you're treated for a condition related to sun exposure or body weight, then these conditions can be effected by lifestyle. You and your physician will discuss your treatment goals when deciding which laser treatment is best for you.