Minimally Invasive Liver Surgery
The Henry Ford Liver Disease Center is a recognized leader in cutting-edge liver treatment. Through a new, minimally invasive procedure we provide an alternative to traditional, open abdominal surgery for patients in need of liver tumor removal. Patients with isolated liver tumors (malignant or benign) will benefit from the blending of new technology and surgical expertise offered by the Henry Ford team.
A better way to living-donor liver transplant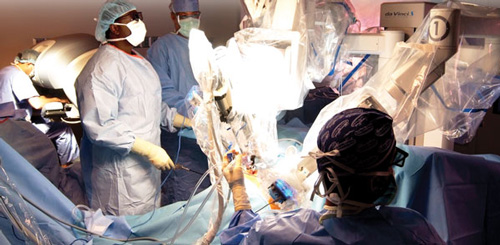 In August 2008, Henry Ford Hospital surgeons performed the state's first laparoscopic surgery for living-donor liver transplantation, another milestone in the hospital's transplant program.
Laparoscopic surgery is a growing field in medicine because it's a less invasive procedure for patients, who recover faster and experience less post-operative pain than traditional open surgery. Henry Ford has used laparoscopic surgery for living-donor kidney transplants since 1999 and for removing liver tumors since 2002.
The laparoscopic technique for living-donor liver transplantation is relatively new because the surgery is more complex given the need to preserve the integrity of the blood vessels in the liver.
Laparoscopic surgery is performed through three to four small holes in the abdomen. The surgical instruments and the laparoscope (a long, slender optical instrument containing a miniature camera) are placed through these holes, and the surgeon removes the organ through a 4-inch abdominal incision.
Always striving to provide patients with the most advanced medical treatment, Henry Ford surgeons have chosen to be Michigan's leaders by advancing this new procedure.
Henry Ford is a designated Center of Excellence in liver transplantation by the National Blue Cross Blue Shield Association and Aetna, and a major transplant center approved by all payors in Michigan.