How Henry Ford is prepared for Ebola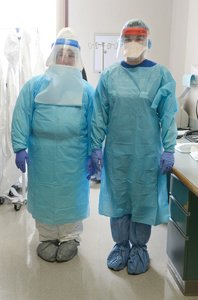 Since August, our health care workers have been preparing and training for any situation involving Ebola. We are well-trained to provide safe and effective medical care. We have a vigilant screening process in place at all of our hospitals and clinics to ask all our patients about any travel history to West Africa in the past 30 days and any symptoms they may be experiencing. Infection control measures are in place to protect our health care workers, patients and hospital visitors. An Ebola patient would be housed in a patient care unit separate from other units and patients.
The Ebola outbreak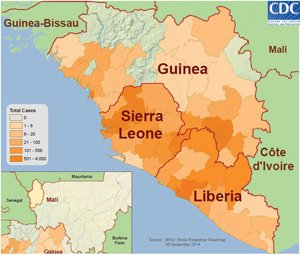 The West African countries of Guinea, Liberia and Sierra Leone are experiencing the largest Ebola epidemic in history. Although the risk of an Ebola outbreak in the U.S. is very low, the Centers for Disease Control and Prevention (CDC) and its health care partners are taking precautions to prevent this from happening.
The CDC has developed guidelines and checklists for health care workers and hospitals to prepare and care for patients.
What is Ebola
Ebola, previously known as Ebola hemorrhagic fever, is a rare and deadly disease caused by infection with one of the Ebola virus strains. Ebola can cause disease in humans and nonhuman primates (monkeys, gorillas, and chimpanzees).
Ebola symptoms
A person infected with Ebola is not contagious until symptoms appear. Symptoms include: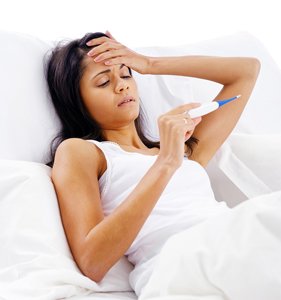 Fever
Severe headache
Muscle pain
Diarrhea
Vomiting
Stomach pain
Unexplained bleeding or bruising
Symptoms may appear anywhere from 2 to 21 days after exposure to Ebola, but the average is 8 – 10 days. Recovery from Ebola depends on the patient's immune response. People who recover from Ebola infection develop antibodies that last for at least 10 years.
The risk of transmission
Ebola is spread through direct contact (through broken skin or through your eyes, nose or mouth) with blood and bodily fluids (such as urine, stool, saliva, vomit, sweat and semen) from a person who is sick with Ebola. Ebola is also spread through direct contact with objects (needles, for example) that have been contaminated with the blood or bodily fluids of a person sick with Ebola. Ebola is NOT spread through the air, water or food. If a person has no symptoms, he/she is not contagious.
Who is at risk of exposure
People who traveled to areas of West Africa - Guinea, Liberia and Sierra Leone – or had close contact with a person sick with Ebola.
Preventing Ebola transmission
During outbreaks of Ebola, the disease can spread quickly within health care settings (such as a clinic or hospital). Exposure to Ebola can occur in health care settings where hospital staff are not wearing appropriate protective equipment, including masks, gowns, booties, gloves and eye protection.
Dedicated medical equipment (preferably disposable, when possible) should be used by health care personnel providing patient care. Proper cleaning and disposal of instruments, such as needles and syringes, is also important. If instruments are not disposable, they must be sterilized before being used again. Without adequate sterilization of the instruments, virus transmission can continue and amplify an outbreak.
Once someone recovers from Ebola, they can no longer spread the virus. However, Ebola virus has been found in semen for up to three months.
How is Ebola treated
No FDA-approved vaccine or medicine (e.g., antiviral drug) is available for Ebola. Symptoms of Ebola are treated as they appear. The following basic interventions, when used early, can significantly improve the chances of survival:
Providing intravenous fluids (IV) and balancing electrolytes (body salts)
Maintaining oxygen status and blood pressure
Treating other infections if they occur
Experimental vaccines and treatments for Ebola are under development, but they have not yet been fully tested for safety or effectiveness.
Recovery from Ebola depends on good supportive care and the patient's immune response. People who recover from Ebola infection develop antibodies that last for at least 10 years, possibly longer. It isn't known if people who recover are immune for life or if they can become infected with a different species of Ebola. Some people who have recovered from Ebola have developed long-term complications, such as joint and vision problems.
Protect yourself against Ebola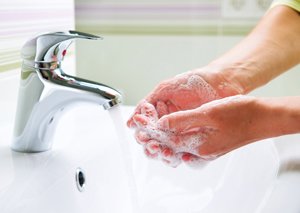 Wash your hands often with soap and water or use an alcohol-based hand sanitizer.
DO NOT touch the blood or bodily fluids (such as urine, stool, saliva, vomit, sweat and semen) of people who are sick.
DO NOT handle items that may have come in contact with a sick person's blood or body fluids, like clothing, bedding, needles or medical equipment.
DO NOT touch the body of someone who has died of Ebola.
Travel notices
The CDC urges all U.S. residents to avoid nonessential travel to Sierra Leone, Guinea and Liberia because of their Ebola outbreaks.
Airport screening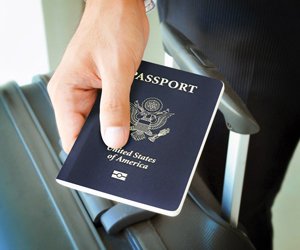 Today, all outbound passengers are screened for Ebola symptoms in the affected countries. Such primary exit screening involves travelers responding to a travel health questionnaire, being visually assessed for potential illness, and having their body temperature measured. U.S. Customs & Border Protection (CBP) personnel continue to observe all travelers entering the U.S. for general overt signs of illnesses.
In October, CDC and CBP enhanced the screening process at five U.S. airports that receive more than 94 percent of travelers from the Ebola-affected countries. They are New York's JFK, Washington-Dulles, Newark, Chicago-O'Hare and Atlanta international airports.
Helpful resources
Centers for Disease Control and Prevention
Michigan Department of Community Health
Sources: Centers for Disease Control and Prevention and Henry Ford Health.