Advanced Cancer Treatments
For many, a cancer diagnosis brings uncertainty, anxiety and lots of questions. For Rick Moreno it was no different. Then he met Craig Rogers, M.D., director of Renal Surgery at Henry Ford Hospital.
"From the first time I saw him, he made me feel comfortable with him and the treatment plan we discussed," says Moreno, a resident of Plymouth and doting father. "He was the right doctor for me."
Last November, Dr. Rogers performed surgery on Moreno to remove a cancerous tumor. Two days later, Moreno was discharged from the hospital. And by Christmas Day, Moreno was back to his active lifestyle.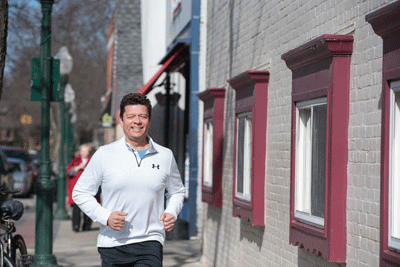 "I'm feeling really good," Moreno says today. "On Christmas Day I ran three miles, two days later I ran 3.2 miles and two days after that I ran 3.3 miles."
"As a runner myself, I can understand his desire to get back to training quickly," Dr. Rogers says. "Fortunately, the robotic approach helped make that possible for him."
Moreno underwent robotic-assisted surgery, a highly effective, safe and minimally-effective technique performed through tiny incisions, allowing the surgeon added control and precision. The result is less blood loss, less scarring, shorter hospital stay, few post-surgery complications and a faster return to normal activities.
The ubiquitous robotic surgery is one of the marvels of innovation in medicine today. As the executive in charge of innovation at a global quick service restaurant brand, Moreno says he is eternally grateful to Dr. Rogers and his team that cared for him during his hospital stay. He called the robotic technique "innovative" and one that can't be underestimated for its effectiveness.
"Everyone involved from the minute I checked in (on the day of surgery) until I was discharged were tremendous," Moreno says. "Dr. Rogers is the best and he was right in my backyard."
Moreno had just returned home from trick-or-treating with his daughters last Halloween when he was overcome by back and abdominal pain and saw blood in his urine. He initially thought he had a kidney stone and drove himself to a local hospital. An imaging test showed the tumor.
As many patients do, Moreno took to the web to research kidney cancer and local cancer specialists. As he narrowed his choice to Dr. Rogers, he found they shared a mutual acquaintance who told him: "He's the best."