Former Figure Skater Finds Relief After Years of Undiagnosed Foot Pain
Paris Berry remembers the first time she watched figure skating on TV. She was six years old and immediately mesmerized. Right then, she told her mom that she wanted to try it.
But when Paris was thirteen, she needed her first pair of custom skates after her feet started hurting. The new skates didn't fix the problem, and her pediatrician insisted that she was fine. "He recommended I take Ibuprofen and ice my feet," says the 25-year-old Detroit resident. Paris continued skating.
In high school, she added ballet, tap and jazz to her extracurriculars, and the pain continued. "When I walked, my feet would swell," Paris says. "I suffered through it, as my pediatrician kept saying it wasn't anything to worry about."
When Paris went to college, she started exercising more often because she had stopped skating. (No matter what the physical activity, she loves to be active.) But eventually, she couldn't work out because the pain was too excruciating. "Not only could I not exercise, but I also couldn't go for walks," Paris says. "My ankles hurt, my feet hurt. They were so swollen."
Meeting the Doctor Who Could Help
In 2018, at 23 years old, Paris acted: she searched the Internet for an orthopedic doctor and chose Dr. Nicole Brouyette, a foot and ankle surgeon with Henry Ford Health.
"Dr. Brouyette took such good care of me," says Paris. "She was very understanding and took the time to listen to what I was dealing with and how it was affecting my life. After I had X-rays, she said, 'how have you been walking around every day with your feet like this?' Come to find out, it was a big issue."
A Life-Changing Diagnosis
X-rays showed that Paris had congenital bunion deformity, a hereditary condition where bunions grow and cause the toes to shift. (Because of this, her feet no longer fit into normal shoes.) She needed separate surgeries on each foot.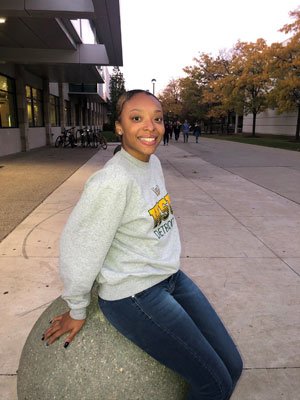 "When I met Paris, she was a student at Wayne State University," says Dr. Brouyette. "She was trying to find time to have the procedure, as well as a physician who would take on her case — which was severe. She was in a great deal of pain for many years. She needed a proximal bunion correction and a lapidus bunionectomy, and after each surgery, she wouldn't be able to put weight on her feet for six to eight weeks."
Learning this information could have been nerve-wracking, but Paris wasn't phased. "I thought, 'if this is what it will take for me to enjoy the things I used to enjoy, then I'm fine with surgery,'" she says. "I was exasperated, and I was ready."
Going Through Recovery
For Paris — someone who is used to being self-sufficient — the most difficult part of the recovery period was leaning on others for help. "I wasn't used to depending upon other people for anything," she says. "I had to lay around and let my mom and stepdad do everything for me. I didn't enjoy that at all." But it was worth it.
After her recovery period, Paris went back to work (and back to being on her feet all day) at Gleaner's Community Food Bank. "Paris was an excellent patient and followed instructions well, which helped with her quick recovery and allowed her to get back to her active lifestyle," says Dr. Brouyette. "Some patients you never forget, she was one of them."
Back To An Active Lifestyle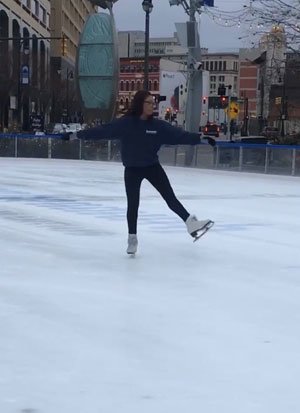 While Paris doesn't figure skate competitively anymore, she is able to exercise without pain and volunteers each winter as an ice monitor at The Rink at Campus Martius. "It's a small way I can get back into skating," Paris says. "And when I can, I go for a skate there and I feel perfectly fine. These surgeries have been life changing — not being able to walk and move normally is very tough. If you have a decent support system, don't wait to get surgery — especially if you're young, like me."