Epidural injections may provide back or neck pain relief for several months, and sometimes permanently.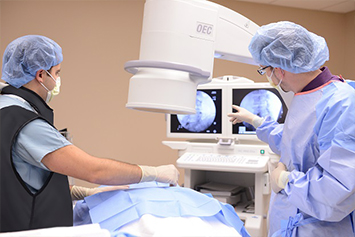 An epidural injection, also known as an epidural steroid injection, is a minimally invasive procedure used to treat chronic back and neck pain that could result from any number of different conditions. The procedure may provide pain relief for several months and sometimes permanently.
Despite the similarity in name, an epidural injection is different from the epidural anesthesia that is administered during childbirth.
How does an epidural injection work?
During an epidural steroid injection:
A medication is injected into the epidural space.
The epidural space is an area located in the spinal canal, between the bony spinal column and the spinal cord.
The epidural space contains the roots of the spinal nerves.
The medication that is injected directly into this space coats these nerve roots, helping to alleviate pain in specific areas of the back or neck.
Corticosteroid injections
Epidural steroid injections use a corticosteroid (or cortisone) medication, which acts as an anti-inflammatory agent. In some cases, an anesthetic is added to the injection medication to help numb the nerve roots. Epidural injections are one of many types of corticosteroid injections used to manage pain. Others include:
Facet joint injections
Peripheral joint injections
Conditions treated by epidural injections
Epidural steroid injections are used in the treatment of back and neck pain caused by many chronic pain conditions, including:
Radiculopathy (inflammation or damage to a spinal nerve, typically in the low back or neck)
Herniated disk
Spinal stenosis, including foraminal spinal stenosis
Sciatica
Failed back surgery syndrome (chronic back or leg pain following spinal surgery)
What to expect during an epidural injection
An epidural steroid injection is an advanced procedure that uses image-guided fluoroscopy – a type of medical imaging that displays a live X-ray image on a monitor – to ensure accurate placement of the injection needle. During the procedure:
You lie on your stomach or side, depending on the location of the injection.
Your skin is sterilized at the injection site.
You are administered a local anesthetic to numb the injection area.
You are positioned on the fluoroscopy X-ray table.
Your pain management physician inserts a needle into your skin, and guides it toward the targeted epidural space, using the fluoroscopic image to ensure accurate placement.
Once the needle is positioned, the medication is injected into the epidural space.
Following the epidural injection procedure
You will be moved to a recovery room and monitored by your care team. In most cases, epidural injections are performed on an outpatient basis and you will go home the same day, although in rare cases some patients may require admission to the hospital following the procedure.
The Henry Ford Pain Center approach
At the Henry Ford Pain Center, pain treatment begins with a thorough medical history and physical exam. All patients are evaluated by board-certified pain medicine physicians, physician assistants and certified nurse practitioners to identify the cause of their pain. Following initial assessment, we work with you to develop a personalized treatment plan that may include interventional pain procedures, medication therapy, physical therapy, massage and other complementary options.