Pain pumps deliver smaller doses of medication, helping alleviate chronic cancer pain with reduced side effects.
Pain pumps, also known as intrathecal pumps, are an interventional treatment reserved for chronic, intractable cancer pain that does not respond to other therapies, such neurostimulation or radiofrequency ablation. In pain pump therapy, medication is delivered directly into the fluid that surrounds the spinal cord, using a small pump device that is surgically implanted under the skin.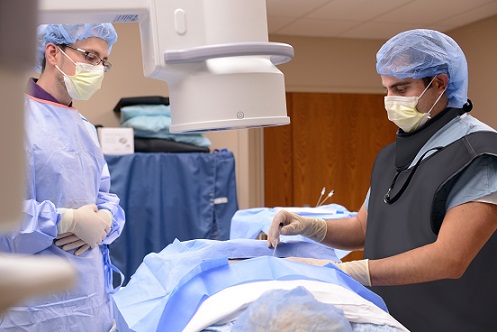 Intrathecal pump treatment for chronic cancer pain
Pain pump therapy can better control chronic cancer pain symptoms while reducing dependence on oral pain medications. Delivering a much smaller amount of medication directly to the spinal canal can help to reduce side effects commonly experienced with larger doses of oral medications, and improve quality of life.
Initial pain pump trial
Initially, we use a trial to test the effectiveness of intrathecal pump therapy in addressing your cancer pain, so we can determine if you are a candidate for a permanent pain pump.
Depending on your specific condition, your Henry Ford pain management physician may recommend one of several types of testing methods, including:
A single injection of medication
Multiple injections
A continuous trial with an external pain pump device that you carry with you during the testing period, with the dose of pain medication increasing until the pain is relieved
Implanting the permanent pain pump
If the trial is successful, you will receive a permanent intrathecal pump implant. This surgery is performed under general anesthesia. During this procedure:
You lie on your stomach.
Your skin is sterilized at the surgical site.
You are administered general anesthesia.
A small incision is made in the middle of your back.
Your pain management physician places a catheter (tube) in the space above your spinal cord, positioning it to deliver the pain medication.
An extension catheter is attached and wrapped around your torso to your abdomen.
The physician makes an incision in your abdomen.
The intrathecal pump is implanted in your abdomen, and the extension catheter is attached to the pump.
The Henry Ford Pain Center approach
At the Henry Ford Pain Center, pain treatment begins with a thorough medical history and physical exam. All patients are evaluated by board-certified pain medicine physicians, physician assistants and certified nurse practitioners to identify the cause of their pain. Following initial assessment, we work with you to develop a personalized treatment plan that may include interventional pain procedures, medication therapy, physical therapy, massage and other complementary options.