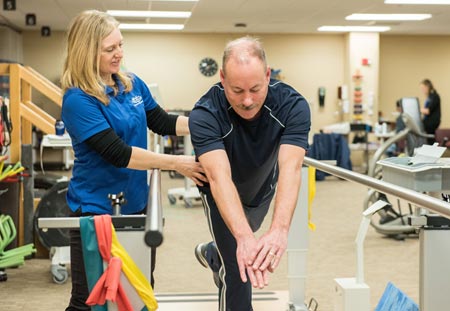 When Harrison Township firefighter/paramedic Fred Darga was injured at work in June 2017, he believed his lower right back was strained beyond repair. His employer sent him to Henry Ford Macomb Health Center-Chesterfield's outpatient rehabilitation department for evaluation and follow up visits to check on his progress.
"In my 20-year career, this was my fourth back injury and I knew it would be an uphill battle for my 49-year old, injury-ridden body to recover," shared Fred, of Macomb Township.
He became emotional during his first appointment with physical therapist Kathy Cook as he shared his fear of being a chronic patient.
"Kathy immediately set her clipboard down, sat beside me and looked directly in my eyes. She told me that we would get through this together and that as long as I followed her treatment plan, I would be back to work and running around with my family in no time," Fred recalls.
The first few weeks of physical therapy were difficult. Fred wasn't feeling much relief from the soreness, tightness and pain. He struggled mentally. Kathy had Deb Blakeley, physical therapy assistant, work with him as well.
"Finally, around week 4, I started to feel stronger, less discomfort, and less pain after each session. Mentally, I grew more positive about my outcome."
Kathy and Deb designed special exercises that centered around Fred's job of 20 years. They asked about the equipment he uses and the approximate weight of each piece. From that, they designed a weight vest to mimic the weight and feel of what he uses on the job and included it in sessions--lifting equipment up the stairs in the stairwell, using the overhead pulley and then stepping up onto an aerobic step platform, bending over to pick up kettle balls and carrying them and other similar exercises to simulate job duties.
"Even when their backs were turned momentarily, they could tell when my posture wasn't correct while lifting, walking or stretching...especially on that damn Bosu Ball," said Fred.
Fred was discharged from PT at the end of August 2017, able to return to full duty.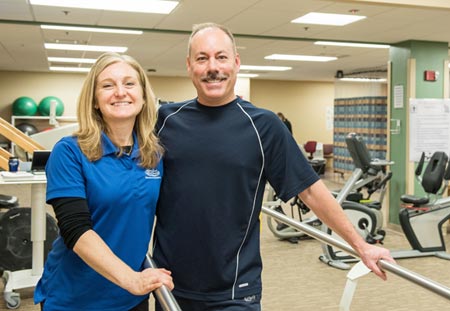 "My back was better than ever, stronger than ever, and more importantly, my mental wellbeing was restored because of Kathy and Deb," said Fred. "In two months, they repaired my broken body and encouraged me every session--even when they could see I was exhausted and struggling at times during each visit to their torture chamber."
Kathy and Deb truly made a significant impact on Fred's life when he needed it the most.
"Words alone cannot describe my gratitude for the two of them and what they did for me and my family," said Fred. "My daughter described it perfectly, 'Ms. Kathy and Ms. Deb put Daddy back together!'"