Gloria Rubis Patient Story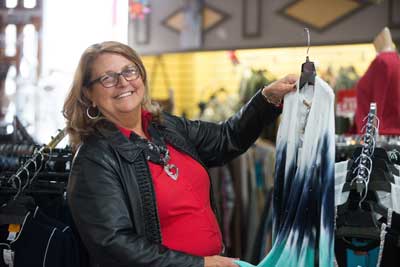 Gloria Rubis is energetic, active and independent. The 64-year-old retired teacher loves traveling with friends, shopping, volunteering and spending time with her grandbabies.
You wouldn't know by meeting Gloria she was diagnosed with a debilitating bacterial meningitis. Meningitis occurs when the membranes covering the brain and spinal cord become inflamed. The disease can be fatal or cause serious lasting side effects and it is unknown why the bacteria travel to the nervous system and cause meningitis.
Before this diagnosis, she considered herself extremely healthy, not taking any medications or having ailments.
In the fall of 2014, her world as she knew it was turned upside down. Gloria was on her way to a volunteer reception and as she grew closer to her destination, she became increasingly nauseous. She decided to drop off the food she had prepared and went straight home. She turned on the TV, was standing in her kitchen and that was the last thing she remembered.
The illness left her passed out in her home for nine hours, discovered by friends after her worried 83-year-old mother couldn't get ahold of her. Gloria and her mom touch base at least every other day so the third day they went without a phone call prompted her mom to contact neighbors to go check on Gloria.
The next thing she knew, she was waking up six days later in the ICU at a hospital close to her home in Lansing.
"I feel like my mother gave birth to me twice. If she wouldn't have called my friends to come check on me, I was told I wouldn't have made it," said Gloria.
From Doctor to Son
Gloria's son is Dr. Michael Callan, orthopaedic specialist at Henry Ford Wyandotte Hospital. He was instrumental in making sure his mother's medical treatment went well and made decisions as her healthcare advocate.
The worst moment of this challenging time for Dr. Callan was deciding to put his mother on a ventilator in the ICU. She couldn't breathe. It was a difficult decision but he knew she was that sick. It was a necessity.
When she was in a Lansing hospital, Gloria's doctor was someone Dr. Callan knew through his residency program. The doctor kept looking to Dr. Callan for approval when making medical decisions and he had to set the record straight.
"I'm not the doctor in this situation--- you need to save my Mom," said Dr. Callan.
The Journey to Recovery
Dr. Callan knew all he could do was wait for his mom to improve and after two weeks being in the ICU she was well enough to leave. He drove her to Henry Ford Wyandotte Hospital for Inpatient Rehabilitation. Not only was it convenient for him being close to home, but working at the Hospital he knew and appreciated the outstanding care his mom would receive.
In rehab, Gloria would regain her abilities that once seemed so simple. After being intubated in the ICU it was hard for her to talk.
"When I realized I couldn't write my name, I was scared," Gloria shared.
Some days she could walk, some days her legs wouldn't move. Sometimes she could feed herself, others she wouldn't be able to pick up a fork.
"They made me work in rehab, which I was happy about! My stay was two weeks of exercising more than I have since high school!" she laughed.
"The nurses were delightful, nurturing and caring. They gave me a lot of choices with my care. Not to mention I was there for two weeks in the fall so I had a gorgeous view outside my window. Watching the leaves changing overlooking the river was a beautiful way to heal."
After her recovery in Henry Ford Wyandotte inpatient rehab, she stayed with her son Dr. Callan for six weeks.
Her doctors told her it would take at least a year to recover. However, Gloria feels she got her life back only six months after her illness started.
That same year as spring weather broke, she was healing both physically and emotionally. She was able to drive again a few months after leaving Henry Ford Wyandotte Hospital. She is now fully recovered other than hearing loss and occasional bouts of vertigo because of the infection
"My doctor told me I was pretty close to meeting my maker, but here I am! I went snorkeling last week! I am well," Gloria stated proudly.
Gloria is back to doing all of the things that she loves and is as independent as ever.
"There will be more trips, theater, boat rides and dinners with friends," said Gloria with a smile.
A Learning Experience
Going through this eye-opening experience can make even a doctor learn a few lessons.
"I know nothing of cars, I put 100% into the guy at the shop. I knew everything about the process with my mom and it was still a very difficult time. Now as a doctor, I try to explain things better to my patients, even though I thought I did a good job before. I take this experience to work with me every day," said Dr. Callan earnestly.
"In medical school they teach classes on empathy, but you can't really know until you've experienced it yourself. When I see someone in the ICU, I understand because I've lived it. Never have I valued my training more. I can appreciate the quality care at Henry Ford Wyandotte Hospital working here when I see if first hand."