Senior falls may lead to the ER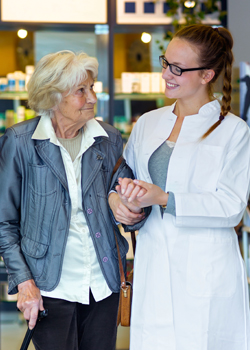 At some point in our lives, almost all of us have lost our balance or tripped and taken a fall. In most cases, we get back up and move on. However, the risk of falling and seriously injuring yourself increases greatly as you get older. For elderly patients, the risk of falling is increased, and can represent a serious health issue.
Consider the following:
One third of adults aged 65 and older fall each year. Of those, 20-30% suffer moderate to severe injuries.
The rate of falls in the elderly population aged 85 and older is even higher: more than half experience a fall each year.
Older adults are hospitalized for fall-related injuries five times more often than they are for other types of injuries.
Older adults require specialized care
Obvious injuries resulting from a fall, such as fractures (a broken bone), open wounds or head injuries that may or may not be associated with loss of consciousness, can require an Emergency Room visit. A fall may cause internal injuries, such as rib fractures, pelvic, hip or spinal fractures, so thorough examination and assessment are needed by a qualified health care professional. In addition, certain medications, such as blood thinners, can have consequences in those who have fallen by causing excessive external or internal bleeding, which can include internal bleeding in the brain.
Detailed, specialized care for seniors
The experts at Henry Ford West Bloomfield's Emergency Department are skilled at recognizing, assessing and treating injuries from falls. Examinations and certain diagnostic tests can help pinpoint if certain injuries are present. Our emergency medicine specialists will immediately evaluate for pain and assess patients for the following symptoms:
Shortness of breath
Chest pain
Nausea/vomiting
Loss of consciousness
Pain with movement
Seizures
Dizziness, mental confusion
Dehydration
Once a patient who has fallen is stabilized and treated for any injuries and conditions that are present, a care plan, which may involve an observation stay or an inpatient admission, may be put into place.