A Gifted Gymnast Gets Back On The Mat After Surgery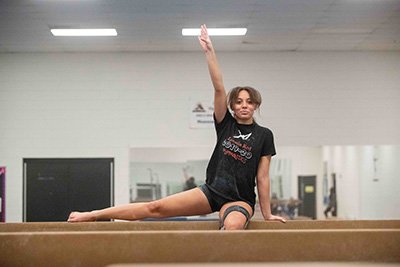 Mya Bolin, 15, has been an athlete for most of her life. She started gymnastics when she was 5 years old and since then, has only added to her list of extracurriculars.
"There's just something about sports that I love," says the Westland resident. "I love the competition, I love having something to look forward to. With gymnastics, specifically, I love tumbling, and I love the hard work it requires to perfect your skills. I'm a perfectionist, so it fits me well."
Mya is currently a sophomore in high school and on the varsity gymnastics team. She is also a competitive cheerleader, and this spring, will run track, too. But last year, in January 2020, the young star's rise came to a screeching halt after an injury.
The Injury That Stopped Mya In Her Tracks
"I was at a gymnastics meet in Birmingham," Mya says, "and I had just mastered a half twist the day before. I wanted to warm it up because I knew if I didn't, I wouldn't be able to do it in my routine." When Mya went into it, however, she immediately had a sinking feeling in her stomach. "Sure enough, I landed wrong and heard my knee pop about five times," she says.
Mya went to urgent care and was told she had patellar tendonitis, which is when the tendon that connects your kneecap to your shin bone is inflamed. But a week or so later, when it was still hurting, she knew it had to be more serious than that.
A Second Opinion That Made All the Difference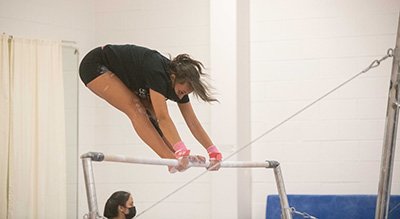 Henry Ford Health's comprehensive sports medicine clinic was the perfect place for an athlete like Mya to get treated. She saw Kaylin Schwartz, a physician assistant, who scheduled an MRI.
"I diagnosed Mya with a left knee ACL tear right before COVID-19 hit in March," says Kaylin. "She had to wait 2 months to have surgery, and finally had surgery in early May 2020 with Vasilios Moutzouros, M.D., an orthopedic surgeon and chief of sports medicine."
"Dr. Moutzouros took one look at the MRI and said my ACL was guillotined in half," Mya says. "I started crying. I was just about to start my first track season in high school—I was very excited—and I had to tell my coach the same day that I could not do track that season because I had a torn ACL and I had to get surgery."
Getting the Support She Needed
While Mya wasn't nervous for the surgery itself—she knew she was in good hands with Dr. Moutzouros and his team—she couldn't imagine not being able to play sports for several months afterward. Her recuperation required 6 months of physical therapy to regain range of motion, strength and an ability to quickly change directions. Recovery could have been quite overwhelming, but Mya says was so grateful for the support system she had at Henry Ford.
"Kaylin, Dr. Moutzouros—everyone was so nice," Mya says. "They reassured me, they really helped me with my recovery and they were super supportive in every way. I had an amazing experience at Henry Ford." Just 3 months into physical therapy, Mya was able to start going to cheer practice, with limitations.
"I wasn't allowed to jump or stunt—I wasn't allowed to do a lot of stuff that cheer requires during that time," says Mya. "But I'm so proud of myself because even after surgery and with these limitations, I made the varsity team. I really worked hard for that one."
Continuing Her Rise to Athletic Success
Dr. Moutzouros says Mya recovered remarkably well. And now, not even a year after surgery, Mya says she's feeling pretty great. "I have a gymnastics competition coming up. I'm excited. I basically can do everything I was able to do before—I'm just working up to perfecting my tumbling. I'm doing two sports right now during the winter, which is hard for any athlete to do."
And Mya isn't the only one who is proud of herself: Kaylin has loved watching her dedication and growth. "Mya never complained about pain and worked so hard to get back to competitive gymnastics and cheer," says Kaylin. "Mya is the kind of athlete anyone would love to work with. Her hours of training, positive attitude and her drive to return to sports was incredible. She is now back to flipping around in a gym with her brace on. We are excited to see what she can do."
So will we see Mya's name in the papers as a professional athlete in the future? "I'd say that's a maybe," Mya says. "I also have a love for true crime and the medical field, and I know that takes a lot of hard work and dedication but I'm up for the challenge."