Together, We Can Repair Hearts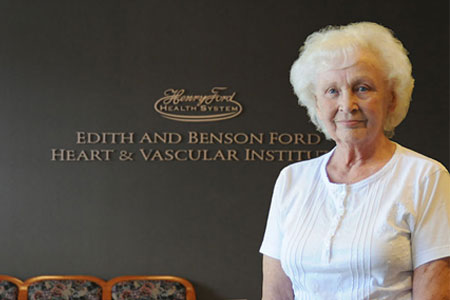 When Viola Waller was transferred from northern Michigan to Detroit by medical helicopter in critical condition in July 2013, her aortic valve was failing.
Already replaced once in open-heart surgery years ago, another traditional valve replacement was not an option for her.
The mother of three, grandmother of five and great-grandmother of three, along with her family, put their faith in the doctors at Henry Ford Hospital.
"Nobody could help me here," says the 80-year-old resident of Charlevoix, Mich.
Luckily, Waller's heart was in very good hands. The Henry Ford team, led by William O'Neill, M.D. and Adam Greenbaum, M.D., replaced her aortic valve using a novel way to access the heart – a world's first the team has since performed more than 25 times.
Henry Ford is the only hospital in the United States performing the unique procedure, called transcaval aortic valve replacement. Doctors access the heart using a small catheter tube by temporarily connecting major blood vessels in the abdomen.
Dr. O'Neill, who is medical director of Henry Ford's Center for Structural Heart Disease, says the procedure offers hope for other potential patients in Michigan and across the country.
"The success of this approach offers a new route for heart valve patients who may not qualify for traditional surgery," Dr. O'Neill says, estimating this procedure could help 25,000 to 50,000 patients annually.
During transcaval valve replacement, a wire is guided into a leg and up through the femoral vein. In the abdomen, doctors create an opening between the vein and abdominal aortic artery by gradual dilation, then bridge the openings with a small connector tube. A catheter with the new aortic heart valve at the tip threads through the connection and up to the heart, where doctors implant the new valve.
As the catheter is removed, plugs are inserted in the artery and the vein to close the holes made for the temporary connection of the two major blood vessels.
Dr. Greenbaum, who is director of the Cardiac Catheterization Lab at Henry Ford Hospital, led the team who performed the first procedure at Henry Ford. He worked alongside Dr. O'Neill, interventional cardiologist Mayra Guerrero, M.D., and Gaetano Paone, M.D., Division Head of Cardiac Surgery at Henry Ford Hospital.
Approximately 5 million people in the U.S. are diagnosed with heart valve disease annually. With an aging population that is often too frail for open-heart surgery, more than 20,000 Americans die of the disease each year, according to the American Heart Association.
For Waller and her family, the results have been outstanding.
"I'm doing great – I really am. If I hadn't had it done, I wouldn't have had a future. I'm very happy I had it done. And I think I got the best care possible," she says.