Kidney Transplant Recipient Kimberly Valacak
"I'm so very grateful for Alana and her gift to me. I really don't have words. Living donation is the most selfless thing you can do."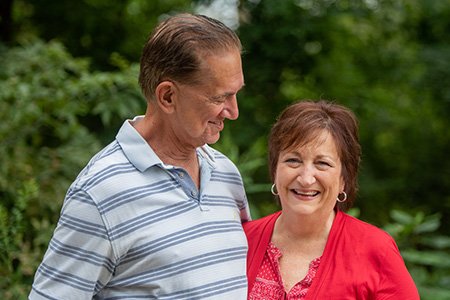 After lifelong kidney issues, Kimberly Valacak, 62, of Fenton was recommended for a pre-emptive transplant to treat her Alport's syndrome (a disease that damages the kidney's tiny blood vessels). Her daughter, Alana, volunteered to donate one of her kidneys.
Q&A with Kimberly
When did you start having problems with your kidneys?
"Since I was about 4. At that point, they just called it nephritis [inflammation of the kidneys]. I had some problems off and on, but most of the time, I didn't have symptoms and just ran around like a normal kid."
When you first had symptoms, what were they?
"I had blood in my urine. I had been sick with strep throat and measles, so at first they thought it was connected to that. But after I got better, I still had kidney issues. They put me on a long-term medication for nephritis."
When were you diagnosed with Alport Syndrome?
"I found out as an adult, and I learned that it's an inherited condition. My mom had kidney issues and likely had Alport Syndrome, too, although I'm not sure she knew that's what it was."
What made you decide to go on the kidney transplant list?
"My symptoms got worse over the years. With Alport's you can lose your hearing, and as I got older I needed hearing aids. My kidney function was also getting lower. In 2020, my nephrologist told me I should get tested and start the process for a pre-emptive transplant."
What did Henry Ford tell you about your treatment options?
"I spoke with Dr. Denny, a transplant surgeon, and he confirmed that getting a pre-emptive transplant before I had to go on dialysis was the best option. I had a better chance of getting a kidney from a living donor, and a better chance for a good outcome."
How did Alana become your living donor?
"My husband and cousin both got tested to see if they could be donors, as did Alana. She was a match, and was also younger than the other two, which made a difference."
How did you prepare yourself for your kidney transplant?
"It was a little unnerving. I had to do bloodwork the whole time I was waiting, and when it got closer to the procedure day, I had to have a stress test, EKGs, ultrasounds and other tests, just to make sure everything else was OK. I also put my job on hold. I worked part-time in a store and stopped because of the pandemic. I didn't want to risk anything that could make me sick before my procedure."
What do you remember about the living donor procedure day?
"It was June 5, 2020. I remember being nervous going in, but more nervous when they took Alana into surgery and while she was in there. But once you're there, everybody is so professional and so nice, they put you at ease. I couldn't believe how kind and efficient everybody is. There isn't one person at Henry Ford that hasn't been unusually good and unusually kind."
How do you feel after your kidney transplant?
"I could do things before, but I would get tired really fast. Now I have a lot more energy, and I can go walking and hiking with my husband."
What did the rest of your family think about this?
"They've been amazed at how well it went, and how well Alana and I are both doing now."
What are the next steps in your post-kidney transplant treatment?
"I need to make sure I drink a lot of water and take my medications, and I go for routine bloodwork every few weeks."
What sticks out after your living donor experience?
"I'm so very grateful for Alana and her gift to me. I really don't have words. Living donation is the most selfless thing you can do."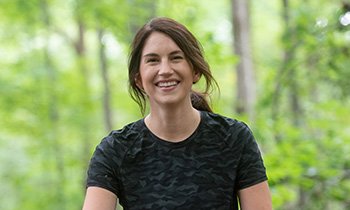 After her mom's lifelong kidney issues prompted the need for a pre-emptive kidney transplant, Alana volunteered to be a living donor. She was a match. Read Alana's Story >