Olivia's Story: Uterine Cancer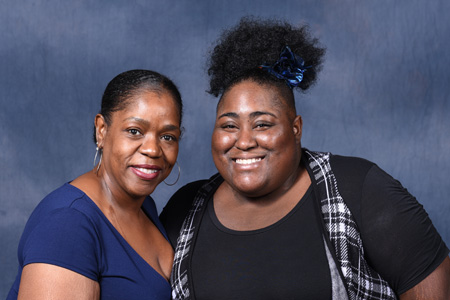 The bleeding was heavy and would not stop, impacting every aspect of Olivia Gordon's life. It had been going on for more than a year.
At work and home, Olivia was constantly running to the bathroom for fear blood would soak through her pants. She was using three sanitary napkins at a time, changing them every 20 to 30 minutes.
One day the bleeding hit a tipping point. "It was like a water faucet. I couldn't get it to stop," she recalls.
A friend rushed her to the emergency room in the early morning hours, where Olivia finally received the diagnosis that had eluded her for so long: Uterine cancer.
While the 2016 diagnosis is still difficult for her to discuss, Olivia hopes by sharing her story, it may help another woman to better understand some early warning signs and seek medical attention.
"I had this cancer for months, maybe years, and I had no idea," she says.
Early warning signs
Olivia's menstruation cycle had never been what she would call "normal." She started her period when she was about 10 years old, and it suddenly stopped at age 13.
When she was 23 years old, she went to her primary care physician for help with weight loss.
Her physician, after learning Olivia had not had a period for 10 years, ran several tests. Those tests showed Olivia had Polycystic Ovary Syndrome (PCOS), the most common disorder that affects a woman's hormones and may cause changes in a woman's menstrual cycle.
Soon after, Olivia began having her period again. But something still wasn't right.
"I would start bleeding and it would last for up to four months at a time. I would go through 44 pads every 10 days, I was bleeding that much," she says.
"Since I had PCOS and was trying to lose weight, I just thought the bleeding would even out once I got my weight under control."
By January 2016, the bleeding was so heavy, Olivia's mother took her to the emergency room.
"My mom knew something wasn't right. It's not normal to bleed for months on end," she recalls. "My body felt like a ton of bricks."
There, doctors performed an emergency dilation and curettage to clear the uterine lining and stop the bleeding. Additional tests were unable to pinpoint a cause beyond PCOS.
In September 2016, the heavy bleeding had returned – and seemed to be getting worse. When she woke up one morning, her mother noticed she was flushed. Olivia stayed home from her job as a cashier that day. By the evening, it became evident she could not control the bleeding.
"I didn't want to wake my mom because she was sick, so I called my friend and asked her to take me to hospital." Olivia says, "She didn't get off work until 4:30 in the morning, and I just remember sitting on the floor of my bathroom waiting and wishing for the bleeding to stop."
Olivia's friend took her to Henry Ford Medical Center– Brownstown.
A tumor the size of a baby
When she arrived, the staff rushed Olivia in for a CAT scan; they couldn't control the bleeding.
"The towels they put around me were soaked," Olivia says. "They decided to send me by ambulance to Henry Ford Wyandotte Hospital's emergency room."
Once there, the emergency room staff performed scans to help determine the cause of her abnormal bleeding.
Concerned Olivia might bleed to death, plans were made for immediate surgery. "I called my mom in tears, to tell her what was happening. I remember saying 'my insurance isn't going to cover this and I don't know what to do.'"
A member of the medical staff overheard Olivia's phone conversation. She assured Olivia that they would help her figure out insurance coverage and to focus on her health. "It took a big weight off my chest."
She wasn't prepared for what would happened next. In the OR, her surgical team removed a tumor the "size of a baby" from her uterus, and sent it to the lab for testing.
While recovering from surgery in the hospital, Olivia asked for the results of the tumor testing.
"I can still remember the doctor outside of the curtain by my bed when she called to get my test results. She told (the lab) my name and then she got quiet. She came in and closed the curtain. She grabbed my hands and told me I had uterine cancer."
"I screamed when she told me," Olivia says. "My doctor at a different hospital said there was nothing wrong, but I got an answer at Henry Ford—one that made sense."
Olivia was referred for treatment to Rabbie Hanna, M.D., an Ob-Gyn specializing in women's cancers.
"(The cancer) was aggressive, so I had a full hysterectomy. I didn't have much of an option because of the type of cancer and how much it had spread," Olivia says.
Since her hysterectomy Olivia has been cancer free. She's taken comfort and found support in her mom, family and young nephews, and spends her free time designing costumes, headbands and wreaths. While she's grateful she did not need chemotherapy or radiation, she still deals with the emotional effects of undergoing a hysterectomy at such a young age.
"I know I can never have my own child. I know there's adoption, but it's hard to accept, and I try to get through it every day."
Olivia's advice to other patients
"Stay strong and surround yourself with the people who will be strong for you."