A New Outlook on Life through Lifestyle Change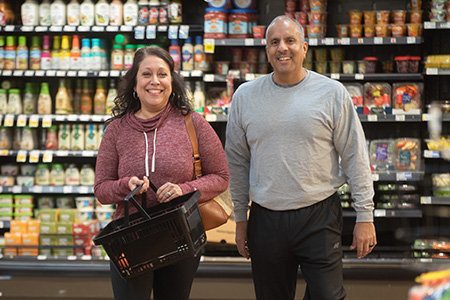 Antonio Ramirez had been progressively gaining weight, despite 10 years of consistent exercise. Knowing he needed to do something to get the weight gain under control, he decided to give up pop and make small changes to his diet. By doing this, he was successful at losing weight, only to gain it all back quickly.
In June of 2012, he was diagnosed with type 2 diabetes and began taking insulin four times a day to keep his condition under control. After years of treating his diabetes and taking medication for high blood pressure and elevated cholesterol, in January of 2018, during an annual check-up, he learned he had gained even more weight, which resulted in the need to increase his insulin even more.
Antonio was at his breaking point and began to think about where he would be 10 years from now at the rate he was going. He felt he had no options. Everything changed when he and his wife, Nancy, decided to join a program at the Center for Metabolic Health and Weight Management at Henry Ford West Bloomfield Hospital and start improving their health together.
Multidisciplinary Approach to Health and Wellness
The Center for Metabolic Health and Weight Management partners with patients to support improvements to their health, weight and overall wellness. The program focuses on lifestyle, behavior modification and nutrition to treat or prevent type 2 diabetes, high blood pressure, weight management and other health problems impacted by metabolic health.
"Our program centers on developing sustainable habits for long-term success through a multidisciplinary approach," says Larissa Shain, registered dietitian at the Center for Metabolic Health and Weight Management. "Antonio and Nancy came to our program highly motivated and ready to make doable lifestyle changes."
Results through Lifestyle Change
The couple began meeting with Larissa every month and attending weekly educational classes over the next six months. She put together a meal plan and gave them the tools, suggestions and education they needed to make tremendous lifestyle changes. They worked together as a team, changed their environment, and shopped and cooked together.
"The biggest difference with this program is that it was easy to follow, centered on lifestyle change versus a diet, and it didn't require us to buy expensive supplements," Antonio says. "We learned about calorie density, reading labels and understanding serving sizes, as well as making healthier food choices."
As a result, Antonio lost 70 pounds and 12 inches from his waist in five months. He was able to get off insulin and other medications for hypertension and cholesterol.
Antonio is enjoying sports again and his newfound passion of running, including plans to compete in a marathon later this year. Nancy lost 46 pounds, despite having a thyroid condition which makes weight loss challenging.
"This has completely changed my life, probably even saved it," Antonio says. "It's an ongoing journey that my wife and I are committed to taking together."
Want to learn more about how to improve your metabolic health?
Visit HenryFord.com/MetabolicHealth or call (248) 325-1355 and join us for a free seminar to discuss how we can partner with you.