Following a gastroenterology appointment, Carol Caverzan can't wait to talk about the amazing people she meets during her stay.
Carol began experiencing gastrointestinal discomfort in April 2019. The pain grew increasingly worse, preventing her from eating. After 3 months of medical testing in her home province of Ontario, her family physician referred her to a gastroenterologist.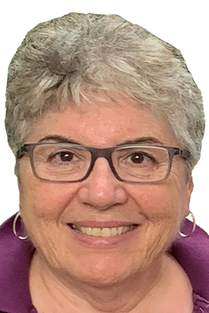 By this time, it was summer vacation, and combined with long waiting lists, Carol knew it would be some time before she would be able to see a specialist. She spoke to family friend, Dr. Stephen Bartol, M.D., a former Henry Ford orthopedic surgeon. He suggested that she contact Henry Ford International Patient Services.
Calling immediately, Carol spoke to Andréa Hill, a member of the International Patient support services team. "She was incredible. From the moment I called, she took care of everything," marvels Carol. "She was so compassionate and comforting, and answered all my questions. Any fears I had about accessing medical services in a foreign country vanished."
Andrea arranged an appointment between Carol and Henry Ford gastroenterology specialist, Amit Bhan, M.D. Carol was seen 3 days after her initial phone call. "I was so impressed during the consultation. Dr. Bhan was calm, focused and thorough. Before the visit, he took time to read all the tests results my family doctor in Ontario faxed over," says Carol. "I know that Henry Ford has thousands of patients, but when I was with Dr. Bhan, I felt as if no one else existed."
Carol was ordered an MRI and endoscopy, a procedure to look at the stomach. Andréa arranged Carole's procedures and consistently checked on her throughout. "First impressions are lasting. Andréa was my first impression of Henry Ford. She assured my comfort and care here," recalls Carol. "And Dr. Bhan, he was the icing on the cake. When you aren't feeling well, promises of prompt, quality care really help the healing process."
While Dr. Bhan and Andréa were her primary contacts, they didn't work alone in providing her world-class care.
"Everyone was involved in making me feel at home at Henry Ford," she said. "I walked through the doors of Henry Ford for the first time and the gentleman at the front desk, who could tell I was lost, approached me and offered assistance. On another visit, I asked a cleaning staff person for directions and she walked me to the correct corridor. Frankly, I would say that each employee I encountered — greeter, custodian, receptionist, medical staff — they all played a positive part in making me feel that my being there really mattered."