Our Emergency Medicine Residency Program Curriculum emphasizes strong dedicated training in Emergency Medicine, Critical Care and Pediatric training.
It is reviewed annually by the Program Evaluation Committee. Changes are made based on faculty and resident reviews while maintaining the standards of training.
The HFMH EM Curriculum consists of:
Clinical rotations
Weekly protected didactic conferences
A clearly defined written academic curriculum
Monthly journal clubs
Multi-disciplinary case conferences
MSUCOM Statewide Campus System Educational Events
Simulated patient scenarios and procedures
Asynchronous learning
Administrative seminars and committee involvement
Research seminars
Participation in Scholarly Activity
Clinical Rotations
Each block is approximately 1 month, unless otherwise indicated. All rotations are at Henry Ford Macomb Hospital, unless otherwise indicated.
PGY-1

PGY-2

PGY-3

EM Orientation

EM (7 months)

EM (8 months)

EM (5 months)

Community EM

EM Administrative

Pediatric EM
(Children's Hospital of Michigan)

CICU
(Henry Ford Hospital in Detroit)

Pediatric EM (1 month)
(Children's Hospital of Michigan)

MICU

MICU
(Henry Ford Hospital in Detroit)

Pediatric ICU
(DeVos, Grand Rapids)

EMS

Trauma Surgery & Critical Care
(Shock Trauma, Baltimore)

MICU

Medical Imaging & Procedures

Elective
OBGYN/Neurology

Inpatient Pediatrics

PGY-1
The first year of training places a strong emphasis on foundational skills in Emergency Medicine. Residents will also spend time on rotations that will provide a strong background in various specialties which they will need to practice clinical medicine including Medical ICU, Medical Imaging and Procedures in Radiology, Emergency Ultrasound and Anesthesia, Pediatrics and OBGYN. Emphasis is placed on enabling the resident to translate the considerable knowledge base already obtained in medical school from the classroom to the clinical setting. Problem solving and logical thinking skills are fundamental to the successful practice of medicine. Emphasis is placed on learning to obtain a problem-oriented history and physical examination and the ability to develop a practical list of differential diagnoses when seeing patients. Under guidance and supervision, the resident will examine and treat acute and critically ill patients in the emergency department with graduated responsibility.
PGY-2
The second year of training is largely divided between the Emergency Department and increased specialized critical care exposure in Cardiac ICU, Medical ICU and Trauma Surgery and Critical Care. With the addition of a Community EM rotation, residents will work in a setting with more limited resources to obtain an understanding of the practice of EM very common nation-wide. The PGY-2 resident will continue to refine the skills of diagnosis and stabilization of acute and critically ill patients, while taking on leadership roles in resuscitation. Residents responsibilities will continue to develop in medical education, quality improvement and patient safety and in the training of medical students and junior residents.
PGY-3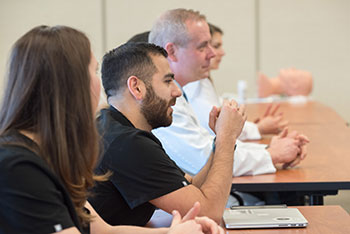 The third and final year of training provides a time to perfect clinical skills and take on supervisory and administrative roles. The senior resident develops the capability to take charge of ED clinical areas including directing resuscitations, managing multiple patients simultaneously and coordinating patient flow through the emergency department while assisting in the supervision of medical students and junior residents. The PGY-3 resident will act as a senior and supervisor in the Medical ICU and Pediatric ED and will also participate in the care of critically ill pediatric patients in the PICU. Scholarly Activity projects are finalized and residents are encouraged to present their work at local, regional and national conferences. At the end of this period, our goal is to have trained physicians who are efficient and comfortable in the clinical practice of emergency medicine, with clear goals for their future career and the tools to continue developing professional skills.
Didactics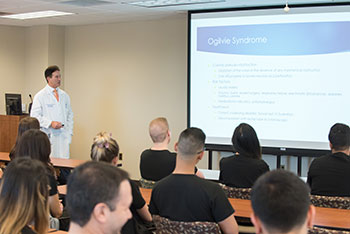 We offer regularly scheduled weekly 4-5 hour didactics which include presentations based on the defined core content curriculum, morbidity and mortality conferences, medical imaging and procedure review, flipped classroom experiences, oral board review, simulated patient scenarios, administrative seminars, journal review, and quality improvement and patient safety review. Education is focused on problem-based learning, evidence-based learning, and computer-based instruction. In addition, we host a quarterly multi-disciplinary case conferences co-sponsored with other disciplines and monthly journal club.
A practice in-service exam and annual in-service exam is given.
Scholarly Activities
All Residents are required to participate in Scholarly Activity. Examples include: peer reviewed publications, non-peer reviewed submissions to journals or online venues, resident participation in the writing and submission of textbooks/chapters, presentations at local, regional or national organizational conferences, active participation in a research project or formulation and implementation of an original research project.
In addition, all residents will be involved in a Quality Improvement/Patient Safety Project.