Emergency Medicine Curriculum
Henry Ford Wyandotte Hospital's (HFWH) Emergency Medicine Residency Program Curriculum has been constructed around the requirements set forth by the standards of the American College of Graduate Medical Education (ACGME) Program Requirements for Graduate Medical Education in Emergency Medicine. The EM curriculum is reviewed annually by our Program Evaluation Committee (PEC), and changes are made based on faculty and resident feedback. The Henry Ford Wyandotte Hospital Emergency Medicine Residency Program curriculum is designed to utilize the extensive resources of the Henry Ford Health, our affiliated training institutions, and the Statewide Campus System of Michigan State University's College of Osteopathic Medicine.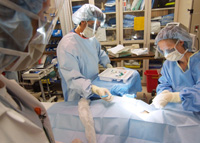 All rotations are held at Henry Ford Wyandotte Hospital unless otherwise noted. Clinical rotations are divided over the three-year program as follows:
PGY 1
Emergency Medicine - 7 months
Pediatric Emergency Medicine (CHM/DMC) - 1 month
Obstetrics and Gynecology – 2 weeks
Medical Intensive Care Unit - 1 month
Anesthesia - 2 weeks
Ultrasound - 2 weeks
Vacation – 4 weeks (two 2-week blocks)
PGY 2
Emergency Medicine – 7 months
Medical Intensive Care Unit (HFH) – 1 month
Toxicology (DMC) - 1 month
Pediatric Intensive Care Unit (Hurley) - 1 month
Elective – 1 month
Vacation - 4 weeks (two 2-Week blocks)
PGY 3
Emergency Medicine - 9.5 months
Shock Trauma (Baltimore) - 1 month
Administration - 2-4 weeks
Vacation - 4 weeks (two 2-Week blocks)
Training Locations
HFH = Henry Ford Hospital – Detroit, MI
CHM = Children's Hospital of Michigan – Detroit, MI
DMC = Detroit Medical Center – Detroit, MI
Hurley = Hurley Hospital - Flint, MI
Baltimore Shock Trauma = R Adams Cowley Shock Trauma Center – Baltimore, MD
Rotation Descriptions
Emergency Medicine - 21.5 months total
Our Emergency Department Curriculum is unique in that our residents are scheduled 1:1 with an attending for every shift throughout residency. Throughout our three years, all residents are exposed to and manage critically ill patients and participate and lead medical and trauma resuscitations (with the support of their attending). In the first year, residents focus on the fundamentals of emergency medicine. In the second year, residents continue to improve their clinical skills and work on efficiency and multitasking. In the third year, residents focus on learning to manage the ED independently, as well as teaching medical students and junior residents.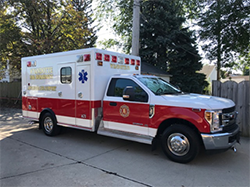 Emergency Medical Services - Longitudinal Experience
During ED months, residents will have the opportunity to complete EMS ride-alongs with the Wyandotte Fire Department. Dr. Gunaga and Dr. McKeown, two of our core faculty, have significant leadership roles in our communities EMS systems. Their diverse backgrounds in EMS and disaster management allow for individualized mentoring for any residents who are genuinely interested in future EMS leadership. Additionally, interested residents may sign up for EMS Disaster Training Courses, facility drills in hopes of learning the skills necessary to triage and treat mass casualty situations.
Pediatric Emergency Medicine - Children's Hospital of Michigan - One month
Residents spend one month at this Level 1 Children's Hospital in downtown Detroit. The resident will be exposed to various pediatric pathology as this facility is one of the busiest in the United States. The resident's role will include working alongside board-certified pediatric EM physicians in managing critical pediatric trauma patients and resuscitating pediatric medical emergencies. Residents have ample opportunity to hone technical skills such as pediatric lumbar punctures, suturing, etc.
Obstetrics and Gynecology - Two weeks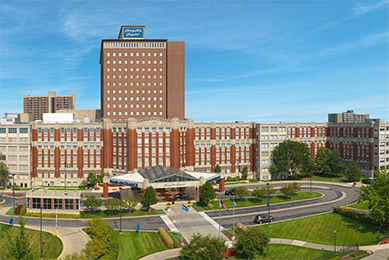 This rotation will expose the resident to the prenatal, perinatal and post-partum patient. Residents will have direct interaction with OB/GYN residents and staff while learning the concepts of complicated labor and delivery, and have daily discussions and lectures on the physiology of pregnancy. Residents participate in medical management and decision making as it pertains to perinatal care in the emergency department.
Medical Intensive Care Unit - Two months
The MICU rotation at Henry Ford Wyandotte offers residents an opportunity to work closely with board certified intensivists and pulmonologists. During this rotation, residents become more comfortable in the management of the critically ill patient. The resident will be expected to round on MICU patients and provide a systematic differential diagnosis and treatment plan. You will develop the skills necessary to perform diagnostic and therapeutic procedures. Keeping up with the latest literature in critical care is also important during this MICU month, and discussion of up to date guidelines and treatment options is incorporated into daily rounds.
Anesthesia - Two weeks
Our residents will have ample opportunity to hone and refine their skills in airway management. They will also gain experience in the use of analgesic, sedative, and paralytic medications commonly utilized in the ED. They will work alongside CRNAs and board-certified anesthesiologists to provide direct patient care in the OR and APUs.
Ultrasound - Two weeks
Residents participate in a two-week Ultrasound rotation during their first year, as well as a longitudinal Ultrasound curriculum throughout their residency. The first-year rotation focuses on basic bedside ultrasound techniques, studies, and ultrasound-guided procedures. The longitudinal curriculum consists of Ultrasound Simulation labs each year, Sonosim module assignments, Didactic review of Ultrasound topics, and clinical bedside ultrasound teaching. The longitudinal curriculum is designed to be tailored to the level of training of each resident and becomes progressively more advanced.
Residents in our program are very comfortable using ultrasound for procedural guidance and to identify normal and abnormal sonographic pathology at the bedside. Our residency program also gives individuals a unique opportunity to become an Ultrasound Superuser. These are skilled residents who have been approved by core faculty to perform additional clinical ultrasound shifts each month to further their own ultrasound skills and to teach their peers in ultrasound techniques. ACEP Ultrasound credentialing is available for those residents who meet criteria.
Toxicology - Detroit Medical Center/Michigan Center for Poison Control - One month
Residents will further solidify their knowledge of common toxidromes along with causes and treatments as they pertain to management of the intoxicated patient in the ED. This rotation is lecture based with the addition of in-house consultations for admitted poisoned patients. Residents will work with board-certified, EM-trained toxicologists and toxicology fellows to learn about emerging drug trends locally and nationwide. They even get to visit the Detroit Zoo!
Pediatric Intensive Care Unit - One month
This rotation takes place in the pediatric ICU at Hurley Medical Center in Flint, MI. Hurley Medical Center is a Level I Trauma Center and Level II Pediatric Trauma Center (the highest designation). Their highly specialized PICU delivers the highest level of care to critically ill or injured patients ranging in age from newborns to 20 years old. While on this rotation, residents will continue to refine their critical care knowledge as well as learn the intricacies between adult and pediatric critical care. Additionally, residents get the opportunity to spend time with pediatric anesthesia during this rotation. Local housing is arranged and provided by medical education.
Trauma - R. Adams Cowley Shock Trauma Center in Baltimore, MD - One month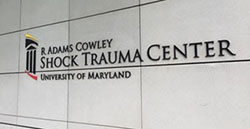 Residents will learn to manage some of the highest acuity trauma patients working in the oldest and busiest trauma center in North America, and third busiest in the world. Residents will be on a team consisting of emergency and surgical residents, trauma fellows and trauma surgeons. Our residents greatly benefit from their month spent at Shock Trauma, as this facility sets the standard nation-wide for its expertise in the stabilization and management of trauma patients, Local housing and travel stipend is arranged and provided by medical education.
Administration - Two - Four weeks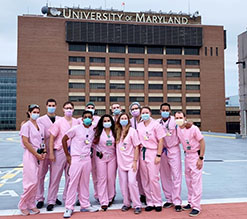 These two weeks in the 3rd year are spent working with the Henry Ford Wyandotte ED administrators to better understand the issues, protocols, and inner-workings of managing an emergency department. Residents will gain further understanding of the multifaceted roles and responsibilities of the ED Director. Residents also have designated ED shifts with the administrator during this time period. If a resident has a particular interest in ED Administration, they may extend this rotation to 4 weeks.
This administration rotation is supplemented with 2 weeks of ED Teaching shifts, in which the senior resident is scheduled along side junior residents and functions as a junior attending for the shift. The senior residents are able to learn all of the tasks required to independently manage the Emergency Department, as well as simultaneously teaching residents. These teaching shifts were added at the suggestion of previous residents and are very well liked. They allow our senior residents addition responsibility in the ED and enables them to receive feedback on their ED manage and efficiency and teaching skills.