Henry Ford Health System Performs First Double Lung Transplant for Patient Injured by Vaping
November 12, 2019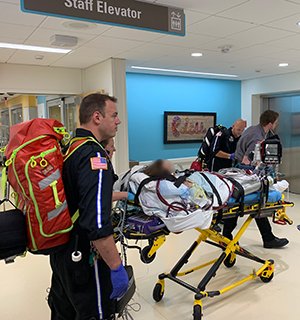 Family Hopes Sharing Information Saves Others from Tragedy
The medical team at Henry Ford Health System performed what they believe is the first double lung transplant in the United States for a patient whose lungs were irreparably damaged from vaping.
While the 17-year-old patient is doing as well and has a very good prognosis, recovery will be a long, intense process. He and his family asked for privacy during the initial recovery period, but asked his medical team at the Henry Ford Transplant Institute to share a warning about the dangers of vaping.
"This teenager faced imminent death had he not received a lung transplant," said Dr. Hassan Nemeh, Surgical Director of Thoracic Organ Transplant, who performed the transplant with surgeons Dr. Themistokles Chamogeorgakis and Dr. Daizo Tanaka, along with a team of experts in Detroit. "This is a preventable tragedy. And we have so much respect for this family for allowing us to share their pain to prevent the same from happening to others. The damage that these vapes do to people's lungs is irreversible. Please think of that – and tell your children to think of that."
The family asked to share the following statement:
We asked Henry Ford doctors to share that the horrific life-threatening effects of vaping are Very real! Our family could never have imagined being at the center of the largest adolescent public health crisis to face our country in decades.
Within a very short period of time, our lives have been forever changed. He has gone from the typical life of a perfectly healthy 16-year old athlete – attending high school, hanging out with friends, sailing and playing video games – to waking up intubated and with two new lungs, facing a long and painful recovery process as he struggles to regain his strength and mobility, which has been severely impacted.
We are forever grateful to the organ donor and their compassionate family for making the selfless decision to donate the gift of life. We are also grateful for the collaboration of the medical teams at Henry Ford, Children's Hospital of Michigan and Ascension St. John Hospital, for working together to provide a second chance at life.
If this press announcement saves just one person, prevents others from vaping, or inspires someone addicted to seek help to quit, it is surely a step in the right direction. We ask that you please respect our privacy as we concentrate on our son's recovery.
The patient's devastating ordeal began on Sept. 5, 2019, when he was admitted to St. John Hospital with symptoms of what appeared to be pneumonia. As his ability to breathe became worse, he was intubated there on Sept. 12, 2019.
On Sept. 17, he was transferred to Children's Hospital of Michigan, where he was hooked up to an ECMO (Extracorporeal membrane oxygenation) device to keep him alive. This vital piece of technology is actually a long-term heart/lung machine, similar to what is used during open heart surgery. It can provide partial or total support for the heart or lungs – providing time for the organs to rest and heal, if possible.
But the patient continued to deteriorate. Children's Hospital of Michigan contacted Dr. Lisa Allenspach, pulmonologist and the Medical Director of Henry Ford's Lung Transplant Program, to see if he would be a candidate for a lung transplant. Henry Ford Health System is also a Midwest referral center for ECMO therapy.
"As a leading lung transplant center in the Midwest, we were grateful to be able to offer assistance and plan to continue to support the family as he recovers over the next few months," said Dr. Allenspach, emphasizing that recovery is very difficult but that she expects him to return to doing things he loves. "Vaping has become an epidemic among youth in the United States. A recent survey of over 10,000 U.S. high school and middle school students showed 28% of high school students and 11% of middle school students self-reported ongoing use of e-cigarettes, most frequently flavored varieties. We are just beginning to see the enormous health consequence jeopardizing the youth in our country."
The patient was critically ill when he arrived at Henry Ford Hospital on Oct. 3, 2019. Working together as a team, specialists were able to evaluate him and place him on the Organ Transplant Waiting List on Oct. 8, 2019. The lung damage due to vaping was so severe – and he was so close to death – that he immediately shot to the top of the transplant waiting list, which ultimately led to the successful transplant on Oct. 15, 2019.
While the patient is doing well, full recovery from a lung transplant can take months. He came off the ventilator and began breathing on his own on Oct. 27, 2019.
As of Nov. 12 in the United States, 39 people have died and more than 2,000 people have suffered lung injuries from vaping, according to the Centers for Disease Control and Prevention. As of Nov. 7, 2019, the Michigan Department of Health and Human Services has identified 46 (26 confirmed and 20 probable) cases of severe lung disease associated with vaping, including one death – and the numbers are far likely greater. There are many ongoing investigations about the cause of these injuries, but at this time the exact cause is not known.
UPDATE: The patient was released from Henry Ford Hospital on Nov. 14 to continue physical therapy and regain his strength.
If You Need Help to Quit Vaping
There is currently a national outbreak of e-cigarette, or vaping, product use–associated lung injury (EVALI). If you or a loved one would like assistance to stop vaping, here are resources to help.
E-cigarette products commonly contain tobacco, THC or both. Your body reacts differently to each of these addictive properties. Tobacco or smoking cessation programs specifically target the triggers in nicotine and can help you with tools to kick a tobacco-based vaping habit.
Henry Ford provides various options for nicotine addiction.
The Michigan Department of Health and Human Services also offers free help:
Michigan Quitline 1-800-QuitNow for adults
MyLifeMyQuit for youth 18 years and younger.
E-cigarettes containing THC activates different triggers in the body than nicotine. The U.S. Centers for Disease Control and Prevention recommends those who are vaping THC stop immediately. Those who would like help to stop vaping THC need different resources that target drug addiction.
Henry Ford Maplegrove Center in partnership with the Greater West Bloomfield Community Coalition is available to answer parent's questions about all vaping and to facilitate a 1-hour education presentation at schools and community organizations in Oakland County.
Or, for those who have a loved one with a possible THC addiction, Maplegrove offers a free program of six, skills-based education and support sessions for adults age 18 or over:
Skill Building: What to Do When Addiction Touches Your Family
Contact: Lisa Kaplan, program coordinator, Community Education 248-661-6170
For Articles about Vaping, Please Visit The Henry Ford LiveWell Blog
Your Vaping Questions Answered
JUULing: The Vaping Trend Parents Need To Understand
The Health Risks Of E-Cigarettes VS Traditional Cigarettes
###
MEDIA CONTACT: Tammy Battaglia / Tammy.Battaglia@hfhs.org / 248-881-0809
About Henry Ford Health System
Henry Ford Health System is a six-hospital system headquartered in Detroit, Michigan. It is one of the nation's leading comprehensive, integrated health systems, recognized for clinical excellence and innovation. Henry Ford Health System provides both health insurance and health care delivery, including acute, specialty, primary and preventive care services backed by excellence in research and education. Henry Ford Health System is led by President & CEO Wright Lassiter III. Visit HenryFord.com to learn more.
About Henry Ford Transplant Institute
Since the first transplant in 1968, Henry Ford Transplant Institute has performed more than 6,150 solid organ transplants and 1,250 bone marrow stem cell transplants as of 2018. Today the Henry Ford Transplant Institute is the most comprehensive transplant center in Michigan offering transplantation of liver, kidney, intestine and multivisceral organs, pancreas, heart, lung and stem cell with superior patient outcomes. Henry Ford uses the most effective clinical advances to increase transplant rates, such as advanced organ preservation techniques, minimally invasive transplant procedures including robot-assisted kidney transplants, living donor liver transplants with a smaller incision, and much more.
The Henry Ford Henry Ford Transplant Institute is part of Henry Ford Health System, one of the largest and most comprehensive integrated health care systems in the United States, as well as a national leader in clinical care, research and education. To learn more, visit HenryFord.com/transplant