Henry Ford Health System and Northwest Goldberg Community Work Together to Enhance Information Sharing Amid COVID-19
May 8, 2020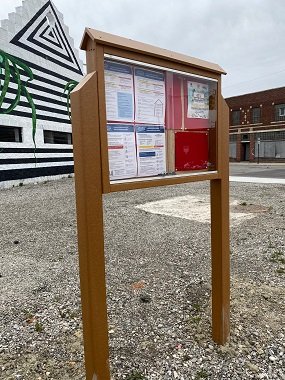 DETROIT – Henry Ford Health System and several stakeholders in the Northwest Goldberg community have teamed up to install four freestanding community message boards in key locations throughout the westside Detroit neighborhood to help share information that is important for the health and well-being of the community.

The boards, funded by Henry Ford, will be maintained by NW Goldberg Cares and currently feature important information on COVID-19, including the basics of social distancing, what to do if someone suspects they have COVID-19 and how to care for a loved one with COVID-19.

"This was truly a collaborative effort by so many stakeholders from across the neighborhood. We are pleased to be a part of a solution to a problem plaguing so many of our residents – many of whom are elderly, not using social media and without internet access at home," said Daniel A. Washington, president and founder of NW Goldberg Cares. "COVID-19 has further highlighted the need for effective information sharing. We appreciate the support of Henry Ford Health System in helping us create these message boards, which will strengthen our neighborhood and community at large by keeping our residents informed."

NW Goldberg Cares will be responsible for the distribution, care and upkeep of the community message boards, working alongside neighborhood stakeholders who support and partake in the effort.

The Northwest Goldberg neighborhood is home to Henry Ford Hospital, Motown Museum and Tabernacle Missionary Baptist Church, as well as two other major Henry Ford investments – the nearly completed Brigette Harris Cancer Pavilion and a laundry facility to be shared with two other Michigan health systems.

"NW Goldberg Cares has done a tremendous job advocating for their community, engaging fellow community members and improving the lives of everyone who calls Northwest Goldberg home," said Mary Jane Vogt, senior vice president and chief development officer at Henry Ford Health System. "We are grateful for the opportunity to support this project and continue to be inspired by the community's leadership and dedication to protecting the health and wellness of its neighbors and community members."

Neighborhood leaders and stakeholders involved with the project include the 15th Street Block Club Association, which is made up of longtime residents invested in the health and safety of the neighborhood; Yusef Bunchy Shakur, a longstanding resident, homeowner, and community activist; United Community Block Club, a block club located on the western border of the neighborhood; and Glenda Cook, a resident and community organizer who recently established the city's first community garden by and for sexual assault survivors.

The four community message boards throughout Northwest Goldberg are at the following locations:
Near the intersection of Loraine St. & Stanley St.
Near the intersection of 14th St. & Ferry Park Ave.
Near ArtBlock, 1411 Holden St.
###
MEDIA CONTACT: Jeff Adkins / (586) 307-2027 / jadkins6@hfhs.org