Henry Ford Health residents reflect on new motherhood and medicine
May 11, 2023
For a number of our medical residents, "Doctor" isn't the only title they've recently added to their resume.
Some are now also called "Mom."
Doctors Leslie McDonough, Grace Yaguchi, Diana Jomaa, Sara Perkins, Kate Dobesh and Liz MacLean are six of Henry Ford Health's current residents who've had children during residency—some in the past few months. And for those who've experienced either new parenthood or medical residency, the thought of those intersecting likely has you struck with awe, admiration and exhaustion.
"I thought all the crazy residency calls I took would prepare me for the sleepless nights those first week," joked Liz MacLean, M.D., a general surgery resident and administrative chief who has an 11-month-old daughter named Maggie. "But motherhood tired is a whole new level. There are no 'post-call days' from motherhood."
Residency—the years-long training that follows medical school—is known to be an intensive period in a physician's life, often marked by long hours. It is when newly minted doctors put their education into practice, working and rounding in several fields and eventually focusing on their chosen specialty. On its own, medical residency can be grueling. But these doctors all agreed it's nothing compared to the early days of motherhood.
"It was definitely a big adjustment," said Diana Jomaa, M.D.
Dr. Jomaa, an internal medicine resident and rising chief medical resident, gave birth to a son named Joud in September. She said she struggled at first with wanting to be perfect—a perfect resident, mother, wife and daughter. But in those first months of motherhood, she found camaraderie, comfort and calm in the words and support of Henry Ford doctors Rana Awdish and Jasmine Omar, and chief medical resident Meghan Gwinn.
"All female physicians and wonderful mothers," Dr. Jomaa said. "They listened to me, acknowledged my feelings and normalized my experiences. I let go of the idea of needing to be a perfectionist and just was present and tried my best with whatever I was doing. I saw my interns improve and patients do better at work, and I saw my son grow and thrive."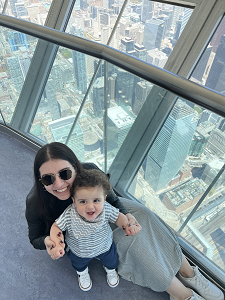 Grace Yaguchi, M.D., who is chief resident over urology, had her second child, a daughter named River, just before the pandemic began. She says her two roles are forever intertwined.
"I had my first child during medical school, so I don't know any other way to be a physician other than as a mother," Dr. Yaguchi said. "Being a mother is challenging. Being a physician is challenging. Some days I don't do well at either of my roles, but I know that I am a better mother because I am a urologist, and a better urologist because I am a mother."
Rana Awdish, M.D., a Henry Ford Health pulmonologist and mother herself, looks for opportunities to provide mentorship and peer support of residents as they integrate new motherhood into their already-full lives. She says she's been so touched watching these resilient and supportive women lift each other up in their medicine and motherhood journeys. Dr. Awdish remembers a time where she didn't know if doing both concurrently was possible.
"I try to remind them what I remind myself, which is that our children learn what's possible through watching us. That it's ok to show the struggle and articulate the friction of making hard choices," Dr. Awdish shared. "And that the joy of being a mother is sometimes the best gift at the end of a hard day of also being a doctor."
That bond of being a resident and new mom has been integral for Kate Dobesh, M.D., J.D., a general surgery resident who delivered son Gus at Henry Ford main in July. She's part of a text group called 'Midnight Milkas'—surgery residents who are breastfeeding, which is another challenge altogether.
"[We've] banded together through this crazy journey of trying to find some harmony between mom and surgeon," Dr. Dobesh said. "The Department of Surgery has many young mom surgeons who took us under their wings throughout pregnancy and postpartum. I don't know what I would have done without them."
"Becoming a new mom while being a surgical resident was one of the hardest things I've had to do," said Sara Perkins, M.D., a urology resident who delivered her daughter Lillian at Henry Ford in January. "I am so lucky to have… an amazing group of women here at work who have helped guide me through becoming a new mom. I am so grateful for my Henry Ford Hospital family and community who I have leaned on heavily during this big adjustment period."
Through it all, Dr. Perkins says that becoming a mother has "softened" her as a physician. Chief general surgery resident Leslie McDonough, M.D., had her second child, a boy named Thomas, in January, and agrees motherhood has made a clear mark on her professionally.
"I think it has helped keep me stay grounded in that I try not to stress out too much about small things that may have bothered me in the past," Dr. McDonough said. "There's a lot more to life than obsessing about what happens at work, and I think you can still be an excellent doctor without getting too bogged down in the weeds every day."
"Being a new mom has changed me as a physician in that I have a new level of understanding and compassion as a parent and that helps me relate in a different way to my patients and their families," echoed Dr. MacLean.
As these residents approach Mother's Day, some for the very first time as mothers, they'll celebrate not only their entrance into motherhood—but also their incredible accomplishment of doing so as residents.
"Residency taught me how to be resilient and work hard for what I wanted. Motherhood taught me how to love unconditionally and become patient. Together, medicine and motherhood taught me that women are wonderful, strong individuals capable of anything and everything they set their mind to," said Dr. Jomaa.
"I think motherhood helps you realize that we are capable of so much more than we ever knew."
To all the Henry Ford Health mothers, mother figures, caregivers and more: Thank you.