Brain Tumor Typing and Brain Tumor Bank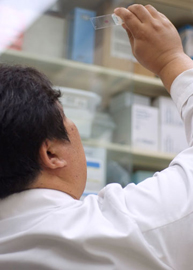 Brain tumors are complex, and some are very aggressive. Knowing as much as possible about the specific tumor in your brain can help your care team determine which treatments may be the most effective.
One powerful diagnostic tool is brain tumor typing, an important part of your personalized treatment plan. We have a team of specialized brain tumor pathologists (neuro-pathologists) to perform and interpret the most advanced brain tumor tissue tests. We also store removed tumors to support research and identify future treatments.
Learn more about our other tests for brain tumor diagnosis.
Brain tumor typing
Genes carry DNA, the instructions for your body to operate. Knowing more about the genetic makeup and other molecular features of the tumor in your brain may increase the likelihood of successful treatment.
Through brain tumor typing — genomic and pathological testing — we can look for specific markers that may be causing tumor growth.
Researchers have also found that certain tumor genes may indicate how the brain tumor will respond to specific therapies. For example, molecular profiling can determine if a particular glioblastoma, the most common and deadly type of brain cancer, will respond to the targeted therapy Avastin®.
Learn more about our personalized approach to brain tumor treatment.
Henry Ford brain tumor bank
In addition to conducting personalized brain tumor typing studies to help guide treatment decisions, every tumor we remove is preserved in our brain tumor bank. Also known as tissue banks, these facilities store collected samples for further research. A few highlights of our brain tumor bank:
The Henry Ford tumor bank is one of the three largest in the world, containing more than 3,000 tissue samples .
The Hermelin Brain Tumor Center has been a major contributor to The Cancer Genome Atlas (TCGA). TCGA is a national cooperative of academic medical centers sponsored by the National Institutes of Health (NIH). The group was formed to analyze tissue samples and chart genomic changes in 20 different types of cancer.
We have contributed 40 percent of the 500 glioblastoma tissues collected for analysis by the NIH.
Brain tumor research at the Hermelin Brain Tumor Center
In addition to TCGA, we use our tumor bank samples in brain tumor research conducted at our center:
Our research is focused on acquiring molecular data from glioblastoma and other aggressive brain tumors.
A large-scale analysis of our tumor bank specimens is underway. This study seeks to determine which genetic factors in tumor cells may or may not be responsible for the differences in outcomes. Some people achieve long-term survival while others do not fare as well – even with the same pathologies, demographics and tumor features.
Our brain tumor typing research is documented in published studies that show how genetic analysis could improve treatment outcomes and quality of life.