Radiation Safety for Children and Adults
Risks from radiation exposure differ by age. As part of its commitment to safety in radiation imaging, Henry Ford participates in two large initiatives that focus on safety considerations for different age groups:
Image gently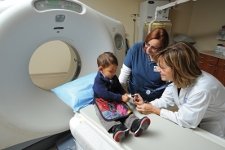 Since the effects of radiation exposure add up over a lifetime, younger patients who receive radiation earlier in life are at an increased risk for developing cancer later in life. In addition, children and adolescents are at a greater risk overall, given that their cells are more sensitive to the effects of radiation.
For these reasons, Henry Ford places a special emphasis on minimizing radiation exposure for pediatric patients including participation in the Image Gently campaign, an initiative of the Alliance for Radiation Safety in Pediatric Imaging. The campaign goal is to change practices by increasing awareness of the opportunities to promote radiation protection in the imaging of children, including:
Ordering alternative tests, where possible
Ensuring that children receive a smaller dose than adults, by matching this dose to a patient's size
Communicating to all team members the need to decrease radiation dose in children, where possible
Using special pediatric protocols to reduce radiation dose without compromising diagnostic quality
Using faster scans to limit the time that pediatric patients are exposed to radiation
Scanning only the specific area of the body that is needed for diagnosis
Image wisely
Image Wisely was created to address concerns regarding patient exposure to radiation during imaging tests with the objective of lowering the amount of radiation used and also eliminating unnecessary procedures.
Image Wisely offers resources and information to radiologists, medical physicists, other imaging practitioners, and patients. Our experts serve on the task force of the Image Wisely campaign for radiation safety in adults and was the first health system in Southeast Michigan to make a Level 3 Pledge. This highest level of commitment includes:
Accreditation from a third-party organization that evaluates radiation dose and clinical image quality
Putting patients' safety first by optimizing imaging examinations to use the lowest possible radiation dose
Training all members of the imaging team to ensure optimized testing
Educating and consulting with referring physicians
Routinely reviewing imaging protocols to minimize patients' radiation exposure, where possible
Participating in a national dose index registry that compares radiation dosages, and which helps to determine the lowest possible effective doses