Regaining His Carefree Spirit After Hip Surgery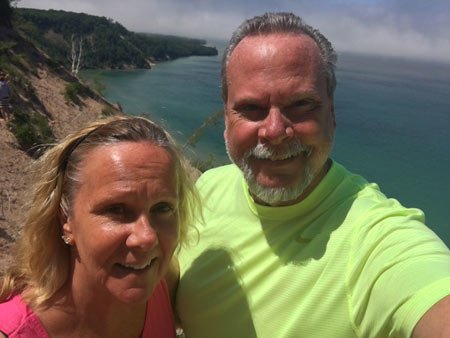 Throughout most of his life, Jim Andrzejewski has enjoyed an active lifestyle. In his youth, he was a tri-sport athlete: he played football, baseball and basketball.
"In my day, playing basketball meant pounding the pavement all day long on concrete wearing shoes that weren't very supportive," says 60-year-old Jim, who lives in Marine City, Michigan. These spirited days of youth are what he attributes to the debilitating aches and pains he started feeling about three years ago.
"At first I thought it was my back," Jim says. "I'm a big guy — I'm 6' 4" — so lower back pain has been common throughout most of my life. I kept putting off going to the doctor, thinking it was going to get better."
Instead, the pain increased and moved to his left hip. Jim tried physical therapy. He went to a chiropractor. He also tried cortisone shots, which gave him a day or two of relief but didn't solve the problem.
The Prognosis
X-rays revealed that it wasn't his back but his left and right hips that were causing issues — he had osteoarthritis. The cartilage that cushions the ends of the bones had completely worn down and he was dealing with bone on bone friction.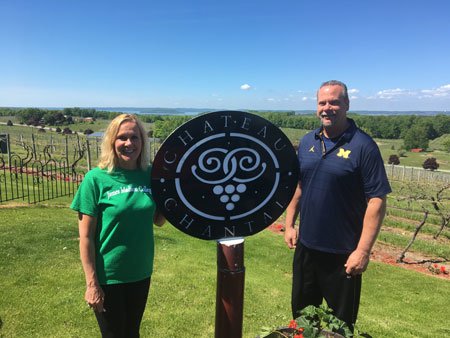 His friend, Bruce Muma, M.D., an internal medicine physician with Henry Ford Health, referred him to Robb Weir, M.D., an orthopedic surgeon at Henry Ford West Bloomfield Hospital. Dr. Weir said that unless Jim had joint replacements in both hips, his quality of life would not improve.
Jim and his wife, Lisa, have a lake house in the upper peninsula, where they love to enjoy nature — boating, kayaking, snowmobiling, skiing and golfing are some of their favorite outdoor activities. But during this painful time, all of that was off limits.
"I was completely debilitated," Jim says. "I would drive to work for an hour, sit behind a desk all day, go home and sit on the couch. I would walk downtown with my kids and they'd end up 100 yards ahead of me. I have a high tolerance for pain, but this was pretty severe."
Two years after Jim first started feeling pain, he received his left hip replacement in October 2019, followed by his right hip replacement in December 2019.
Going Through Surgery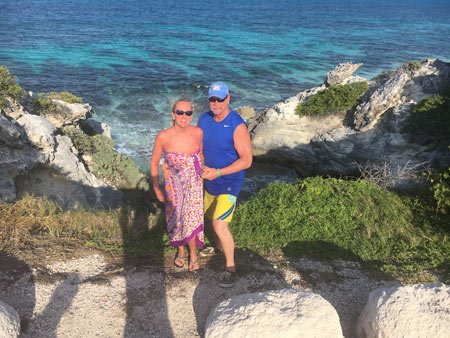 Although it could have been a nerve-wracking experience, Jim says the team at Henry Ford West Bloomfield Hospital made him feel more than comfortable.
"Dr. Weir was pretty incredible," Jim says. "Sometimes doctors will just tell you what's going to happen, but ours was a conversation back and forth. Dr. Weir wanted to know my questions. It was like sitting down talking to a buddy. His bedside manner is outstanding."
Jim let Dr. Weir know early on in their visit that he desired a quick recovery to regain his active lifestyle. "Jim and I worked together to come up with a treatment plan that allowed him to achieve his goals," says Dr. Weir. "While Jim's recovery is not the norm, it is certainly possible and achievable with a healthy, motivated patient and surgical team."
Before heading into surgery, Jim was fully prepared, thanks to a seminar led by Nicci George, RN. "She's the orthopedic nurse who helps you to understand the process you'll go through," Jim says. "That was invaluable — she was phenomenal. The whole process alleviates your concerns."
Jim watched a film of patients who have gone through the similar surgeries, and George shared what kind of bruising and scarring to expect, how quickly he should expect to recover, and what he'd need to do before and after surgery for the best outcome.
"You feel like what you're going to go through isn't scary because Nurse Nicci prepares you," says Jim. "I listened, followed instructions, and my experience was great."
The Road To Recovery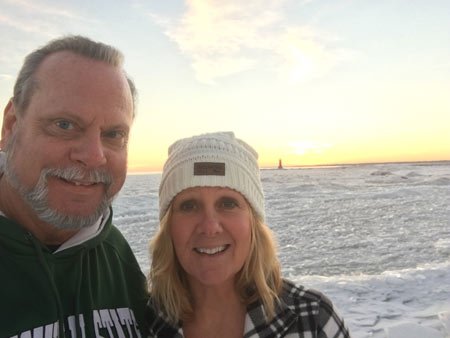 Within half an hour of waking up after surgery (and with the help of his wife) Jim was walking without pain for the first time in two years. When he was sent home, he was given a bracelet with a phone number so he could always reach a nurse, no matter the time of day or night. "It wasn't some 1-800 number, it was a 248 area code," he says. "If you had questions or concerns, a nurse would talk to you and let you know whether you should come in to see the doctor. That gave me complete piece of mind."
In January 2020 — five weeks after his last surgery — Jim went to San Diego with his son for a work conference, and they signed up for a golf outing.
"Dr. Weir said I could chip and putt, but that my son had to hit drives and long shots for me," Jim says. "I went to the range and I couldn't believe it, for the first time in two years I could swing a golf club without pain. My ego got the best of me, and I said, 'I'm just going to hit one drive. I took a nice easy swing and hit the ball tremendously, and I felt great. So I went on and played 18 holes of golf, and I've felt great ever since. It's like a new lease on life."