Thanks To Double Hand Surgery, An Avid Gardener And Former Marathon Runner Gets Her Groove Back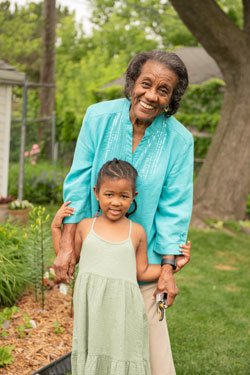 90-year-old Stephanie Harrison has always lived life to the fullest. She graduated from Wayne State University with a degree in education, worked for many years as a teacher, and then became a Detroit Board of Education truant officer. While in her 50s, the Detroit resident and mother of four also started running races. (She ran about 200 total — including three Detroit Free Press marathons and the Boston marathon, and won several half marathons in her age group — until she retired in her 60s.)
And now, in her 90s, Stephanie is an award-winning horticulturist whose rose garden has appeared in the Detroit News. During the colder months when she can't garden, she keeps busy as a seamstress. She has made several prom and wedding dresses for her granddaughters.
"I just love being active and I exercise," Stephanie says. "I get on the scale every morning. It's a habit to take care of my body and my diet."
A Painful Interference
When Stephanie first started feeling pain in her hands about two years ago, then, it became quite a hinderance. "The pain began gradually," she says. "I became aware of it in the summer because when I used clippers or the shovel, two of my fingers would feel like they snapped. My children had carpel tunnel syndrome, and I learned it was hereditary, so I knew it must be that."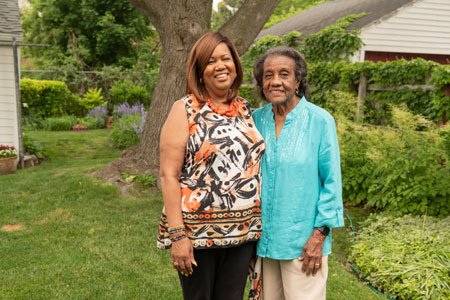 Stephanie's physician referred her to Dr. Charles Day, an orthopedic surgeon who specializes in hand and wrist care, and the executive vice chair of Henry Ford Health's orthopedic service line. Dr. Day diagnosed Stephanie with bilateral carpal tunnel syndrome with trigger ("snapping") fingers. She needed surgery on both hands.
"With carpal tunnel syndrome, the major nerve to the hand is getting squeezed," explains Dr. Day. "And when anything is getting squeezed, it's cutting off circulation. So Stephanie lived for years with lack of blood flow to the major nerve in both hands. It was waking her up at night. She was dropping things."
As opposed to arthritis or tendonitis, where there's no consequence on waiting to have surgery, when the major nerve in the hand is lacking blood flow, the longer you wait to bring the blood flow back via surgery, the more irreversible nerve damage there is, says Dr. Day.
"At my age, I was initially hesitant about having surgery done," Stephanie says. "However, I knew my hands were getting bad and I felt very comfortable with Dr. Day. He's a calming person and easy to talk to. After meeting with him, I wanted surgery done soon as possible. I knew this was what I needed to do — sometimes pain doesn't give you a choice."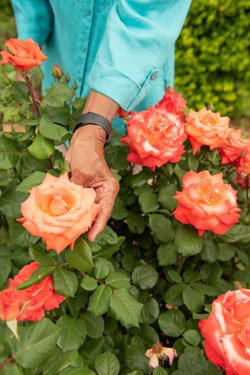 It was also reassuring to know that Dr. Day has performed many of these types of surgeries on patients in their 90s, and they're able to get back to doing everything they would like to do. "No matter your age, you want to be able to use your hands and sleep through the night," Dr. Day says.
Feeling Immediate Relief After Surgery
Stephanie's first surgery was scheduled for July 2020 and her second was scheduled for October 2020, both at Henry Ford West Bloomfield Hospital. She said both surgeries went perfectly — she immediately felt relief thanks to blood flow returning to the nerves. The pain that woke her up at night was gone, while numbness or tingling in the fingers, along with weakness in the hands, can take up to a year to fully recover.
After surgery, Stephanie's daughter Marcia stayed with her to help her recuperate — but it turns out Marcia didn't have that much to do.
"My mom was so determined to do everything herself, so by the second day, I was really just there for company," Marcia says. "There are some things you can't do because you only have one hand. We didn't want the bandage to get wet, and you can't really drive one handed, but she was pretty self-sufficient. And after the second surgery, she had been through the process already, so she was even more comfortable afterward."
It was a big change from the past few years, when, before surgery, Marcia had to assist her mom much more often due to her hand pain. "When you see how close Marcia is to her mom and how appreciative Marcia was of my treatment, it is what make my job so uniquely satisfying," says Dr. Day. "I am able to bring joy and happiness not just to Stephanie, but her family members as well."
Staying Active And Healthy
Stephanie went to hand therapy for a little while but felt so comfortable with her hands after surgery that she didn't need to continue it for very long. She does, however, continue to exercise her hands to this day.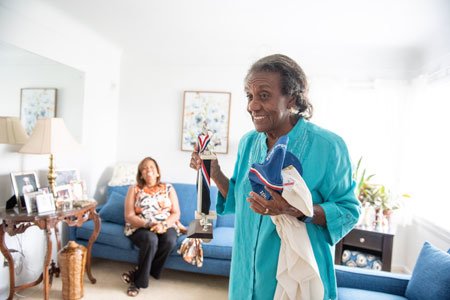 "It's called the crawling wall: you take your hands and move them up wall," she says. "It's important to exercise your fingers. The hands are the most coordinated instruments, and you don't want to get to the point where if you don't exercise and use them, you're crippled. I'm at the point where my hands can do exactly what they need to do. I'm getting arthritis, but that's common at my age, and I'm a person who exercises all of the time and I take care of the situation."
While Stephanie might be diligent in her after-surgery care, she says Dr. Day gets most of the credit. "He is such a good surgeon, my diligence in exercise only complements what he did for me. He did the best job, and I've referred him to two of my friends who are also seniors."