Football Coach and Teacher Overcomes Car Accident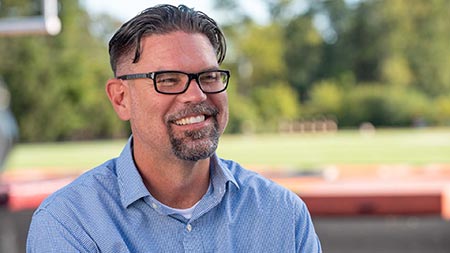 A normal practice day turned into a tragic one when Greg Piscopink and his son Gregory were involved in a car accident on the way home. Gregory, who was the starting quarterback at Birmingham Brother Rice High, walked away without serious injuries. But Greg, the team's assistant football coach and a history teacher at Detroit Renaissance, had to be removed from the wreckage using the jaws of life. Less than an hour after the crash, Greg, now 45, was airlifted from Grand Blanc to Henry Ford Hospital in Detroit where he underwent nine surgeries in less than two weeks.
A bleak outlook
Jennifer Piscopink, Greg's wife and caretaker during this time, chose Henry Ford Hospital because it has a Level 1 trauma center and the expertise to care for the most critically injured.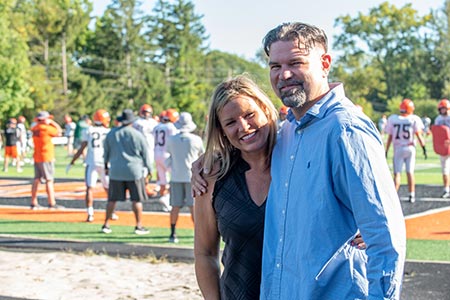 Greg's multiple life-threating injuries included bleeding in the brain and a tear in his aorta, the main artery that pumps blood from the heart to the rest of the body, and a broken pelvis. Greg was also treated for other non-life-threatening, orthopedic injuries including broken ribs, a shattered left arm, a broken left foot, a dislocated right foot, multiple breaks in his lower left leg, a cracked right femur, a demolished right hip socket, and broken facial bones, including a broken jaw.
"When he arrived at Henry Ford Hospital, Greg was given a 1% chance of living," says Jennifer. "I had a 'Humpty Dumpty' and he needed to be put back together, and the Henry Ford team put him back together."
Dr. Joesph Hoegler, an orthopedic trauma surgeon, helped put Greg back together. Along with other Henry Ford trauma surgeons who addressed Greg's more life-threatening injuries, Dr. Hoegler meticulously repaired the multiple bone injuries he suffered in the crash.
In total, Greg spent around two months at Henry Ford Hospital and Dr. Hoegler performed four of the five initial orthopedic surgeries, along with a sixth "fine-tuning" surgery in April to remove a plate and some screws.
An amazing recovery
Incredibly, Greg returned to his coaching role just a year later in 2019. "Dr. Hoegler played a big role in saving my life and I really appreciate him and what he did for me," says Greg. "I'm so thankful he had the medical skills and experience to deal with my severe injuries and provide the care he did."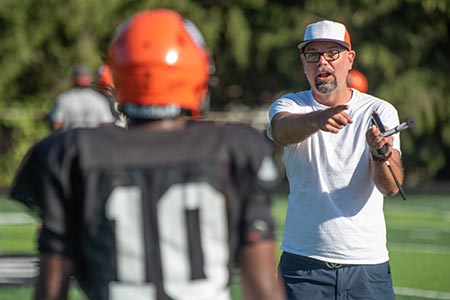 "There are a lot of ups and downs that come with severe injuries like Greg's," says Dr. Hoegler. "His life was normal one second and completely flipped upside down the next second--and not just for him but for his entire family."
Dr. Hoegler thinks an important part of what got Greg through the experience was his positive attitude and sense of humor.
"I've always been a positive person but surviving that accident has taken me to another level of optimism," says Greg. "I continue to get better at coaching, I continue to get better at teaching--and all of the things that are important to me."