A Pain-Free, Uplifting End To A Difficult Year
Maryam Nour, 24, is no stranger to hard work. During her third year of college, for example, the Hamtramck resident took 50 credits, worked 5 part-time jobs, volunteered and played on the soccer team. "It's just part of that first-generation struggle — I'm just trying to make it," says Maryam, whose parents are from Bangladesh.
That commitment and dedication to hard work was truly demonstrated last year, when COVID-19 was declared a pandemic in the United States. In March 2020, Maryam was attending medical school out of state and came home to be with her family. She had been experiencing knee pain for a while and, upon arriving home, decided to see a doctor.
Years Of Suffering Through Knee Pain
"I had first seen a doctor about this pain when I was 20 years old," Maryam says. "Despite normal X-rays, he said it was arthritis. It didn't make sense because I was an athlete and a soccer player. He gave me medication for it, which made me so sick, so I stopped taking it. I even ended up at the emergency department due to extreme pain, although X-rays were always normal. I was always sent home with pain medication."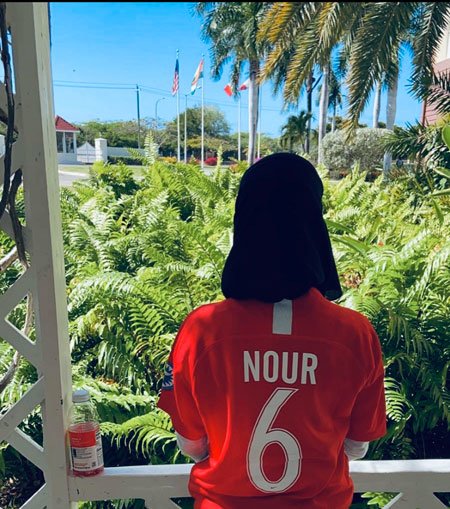 The pain worsened while Maryam was in medical school. "I was debilitated," she says. "I had so much pain while walking. I had so much pain while studying. I wondered if I was physically fit enough to be a doctor. My quality of life had so diminished."
By the time Maryam arrived home in March, she knew it was time for a second opinion. An MRI revealed a meniscus tear in her right knee and she was scheduled to get surgery — until her mom landed in the intensive care unit at Henry Ford Hospital.
"My mom had chronic illnesses that led her to become critically ill," Maryam says. "She was facing death. It was really emotional for me because I was her primary caretaker. I had to sign consent forms, I had to make life decisions for her, and I was also debilitated at the time. I had to cancel surgery and put my mom first because she needed 24-hour care."
Giving Physical Therapy A Try
While caring for her mom — and while studying for school, and while working at Wayne Country Healthy Communities clinic where she performed administrative duties to facilitate free COVID-19 testing — Maryam decided to try physical therapy. She landed at the Henry Ford Center for Athletic Medicine, connected to the Henry Ford Detroit Pistons Performance Center.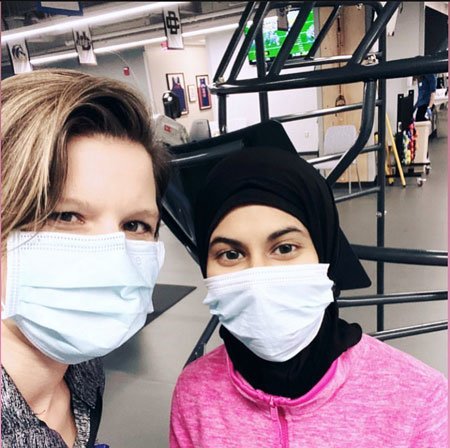 "A lot of specialists weren't taking appointments due to COVID-19, but when Henry Ford's Center for Athletic Medicine heard my case, they took me right away," Maryam says. "I really like the Pistons Center — I was impressed by the facility, and I thought, 'if it's good enough for the Pistons, it's good enough for me.' Not going to lie — I also wondered if I would maybe meet a player!"
Making Progress, One Step At A Time
In April 2020, Maryam started seeing physical therapist Andrea Staley. "Andrea really took the time to get to know me and to understand what I was going through," says Maryam. "It was hard — I cried, I didn't think I could juggle everything along with physical therapy — and Andrea kept filling me with positive affirmations.
"At one point, my insurance randomly cut me off, and Andrea called me and said 'I know you can't come and see me, but do these exercises at home.' She went above and beyond. She was that positive person for me, she was the light in the cave."
Maryam finished physical therapy in November 2020 and is amazed at the results. She says she can now walk and run normally and will likely be able to play soccer again.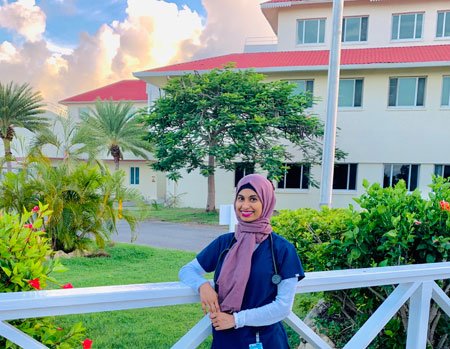 "Maryam was a hard worker," says her physical therapist Andrea Staley. "She went from limping on the first visit to being able to run on her last visit. We had a lot of fun working together — she was always full of joy."
Following In The Footsteps Of Henry Ford Physicians
Maryam's mother recovered as well, and for that, Maryam is forever grateful. "The doctors at the Henry Ford emergency department and intensive care unit saved my mom's life, so now I aspire to be a Henry Ford physician," Maryam says. "It was so hard to go through everything I went through, but I'm so proud of how far I've come. It's about the small successes that lead to the big successes. Have perseverance, dedication and commit to doing hard work. It will pay off."