Microdiscectomy relieves pressure on spinal nerve root, stops sciatica
For decades, managing chronic pain was part of Esther Quan's life. The 47-year-old occupational therapy assistant has tolerated rheumatoid arthritis since her 20s. For the past 13 years, she has suffered with sciatica – pain from the sciatic nerve in the lower back that radiates to the hip and leg. Doctors call it lower extremity radiculopathy. Esther calls it terrible. After numerous unsuccessful treatments, she saw orthopedic spine surgeon Ryan Berger, M.D., an award-winning physician. His surgical treatment would provide immediate relief for Esther's symptoms.
An encourager by nature, Esther helps patients of all ages to regain functioning and adapt to their limitations. Raised in Hong Kong, Esther moved to the United States when she was 26 years old. She loves cooking for her family and watching TV shows from Hong Kong and South Korea. Her favorite hobby is gardening – yet it would cause sciatica and take her to another level of chronic pain.
Trying a Variety of Treatments, One at a Time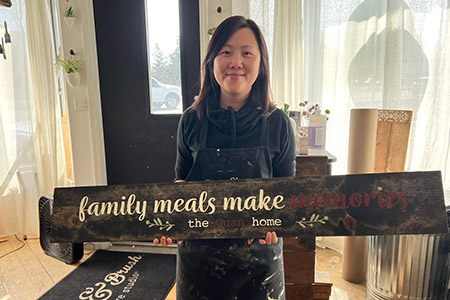 Over more than a decade, Esther received various treatments for the pinched nerve along her spine. She saw a chiropractor and physical therapist and diligently followed the prescribed exercises. She received anti-inflammatory injections and had a lumbar epidural injection. She was given oral prednisone and gabapentin. She tried heat treatments, massages and transcutaneous electrical nerve stimulation (TENS). But any positive results she experienced were fleeting. Within a short time, she would feel the tingling or burning and stabbing pain in her leg and hip. At the worst stage of her sciatica, Esther tolerated a pain level of nine on a zero-to-ten pain scale. Unable to drive or sit normally, she ate dinner with her family in a kneeling position with her elbows resting on the table.
"My background in occupational therapy and my own experience with rheumatoid arthritis taught me how to handle pain," says Esther. "My faith and supportive family and friends kept me going."
While fighting depression that stemmed from her pain, she received information about surgeons at Henry Ford Health. It was Dr. Berger's education, special training and awards that caught Esther's attention.
"During my appointment, he took time to listen to me and then explained exactly what the surgery to treat my sciatica would entail," says Esther. "I felt empowered and thought he was skillful. I could trust him and knew I would be in good hands."
Thanks to Surgery, Relief at Last
Dr. Berger performed an L4/L5 microdiscectomy to relieve pressure on the spinal nerve root. Through a 1.5-inch incision, he used a surgical microscope and specialized instruments to remove the disc that was pressing on the nerve.
"Her sciatica was quite debilitating," says Dr. Berger. "It is a reminder that what appears to be a small problem can have a significant impact on a patient's quality of life and function."
"After surgery, I remember waking up and noticing that there was no numbness or tingling anymore," says Esther. "Of course, I had some surgical pain from the incision, but it was totally tolerable. The intense nerve pain in my hip was gone. It was like a miracle. Dr. Berger said it had been a 'slam dunk,' and he showed me a picture of how much he trimmed off the discs. That really gave me hope."
At her home in Troy, Esther could finally lie on her back – her favorite position. "It was a relief," she says. "After a week, I didn't need pain pills anymore, and I could get out of bed by myself." She savored walking up the stairs, walking in the park – all of those precious acts of independence that can easily be taken for granted.
Never Lose Hope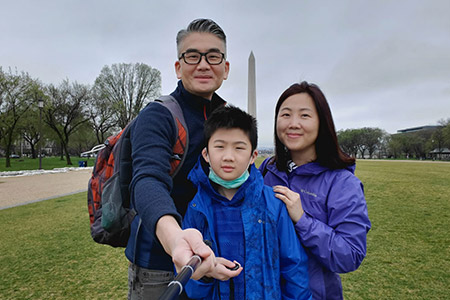 "Being able to do these daily living skills made me feel more empathetic toward my patients," says Esther, who enjoys playing board games with her family and looks forward to traveling.
She admits to occasionally feeling a little numbness and slight pain. "But that's normal," says Esther. "Dr. Berger said to give myself a year to recover and remember the nerve has been compressed for a long time. It takes time for the nerve to regenerate."
In the meantime, Esther expects to be busy with another hobby – painting meaningful words on pieces of old wood or boards. Her advice to those who are in a similar situation may end up being painted on old wood.
"Don't be afraid to reach out for help. At my lowest point with chronic pain, I felt like there was no hope. We all have those moments. But hang on with one hand and reach out with the other. Talk to people. Try things and trust. Be optimistic."
Recommendations for Esther and others who've experienced chronic back pain? Manage your weight. Do any prescribed treatment, exercises or physical therapy. Wear proper shoes. If your pain persists despite treatment, you may want to ask your physician for a referral to a pain management physician or schedule a consultation directly.
"Hang on with one hand and reach out with the other. Talk to people. Try things and trust. Be optimistic."