Kidney Transplant Recipient Kathy Regalado
"I call her my guardian angel. Such a selfless act for someone who you don't know."

In September 2020, Kathy Regalado, 63, of Adrian, underwent a kidney transplant to address her Stage 5 kidney failure. It was a long treatment journey, which included a large media push to help find a donor, and a selfless act by a living donor who she didn't know.
Q & A with Kathy
When did you start having problems with your kidneys?
"I was having problems and didn't realize it, because my daughter and I were taking care of my parents. My mother had pancreatic cancer, and my father was blind and paralyzed and had to be turned and tube fed, so I wasn't thinking of myself at the time. After they passed, I started getting checkups for my symptoms, and found out I was already at Stage 5 kidney failure."
What symptoms did you have?
"Diabetes runs in my family, and I had been diabetic for several years. I was on dialysis, and when I started having vision problems I went to my eye doctor. It turned out I had diabetic retinopathy, and the bleeding behind my eyes was causing me to go blind. I started getting injections and got my eyesight back, but ultimately had to get a kidney transplant."
Did you know about living donor transplant previously?
"I knew there were different types but that's about it. I also knew someone else who went through a kidney transplant at Henry Ford."
How did you find your living donor, Jacqueline?
"Once I started the transplant process, my daughter contacted local media and they covered my story and helped increase awareness of my need for a donor kidney. It went on the radio and on the front page of our local newspaper, the Daily Telegram. My granddaughter also had bracelets made and was selling these, and posted on Facebook, which is where Jacqueline saw it. She was a friend of a friend."
So you didn't know Jacqueline before this?
"No. Although once we started talking, we found out that Jacqueline's mother had stood up in my parents' wedding. So we had a connection we didn't know about until then."
How did you prepare for your kidney transplant?
"I just put it in God's hands. There were some challenges after Jacqueline was selected as the donor, in part due to COVID-19. We had to stop testing for a while, and then when we started up again, she had some potential health issues and we didn't know if she'd be able to donate. But it all worked out."
What do you remember about the living donor procedure day?
"I was in surgery for 17 hours, and I had some complications afterward. But the nurses there were priceless. They went above and beyond to make me comfortable. I was also excited when they brought me a tray with milk and tomato juice. Because I had been on dialysis, I hadn't had these in over a year."
What is your life like now, compared to before your transplant?
"It took a while to get the medications right. I was also on steroids, which made me gain weight quickly, so I'm still working on that. My goal is to feel normal again. I'm not there yet, but I do have more energy to help take care of my 5 great-grandbabies who live with me. Before, I had to do regular 9-hour dialysis infusions at home. Now I just go in for an infusion once a month."
Do you keep in touch with your living donor?
"We talk on Facebook, and our 1-year transplant anniversary is coming up, so our families are getting together for a celebration dinner. I call her my guardian angel. Such a selfless act for someone who you don't know."
Anything else you've taken away from your living donor experience?
"With the world how it is today, I was in total shock at how many people reached out to my daughter's kidney transplant request, and who were so loving and caring to try to help a stranger. Almost a year later, I'm still getting responses."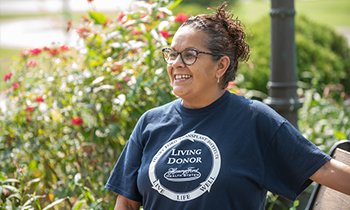 Jacqueline Alcorta responded to a social media post for a stranger who needed a kidney, ultimately becoming a living donor and undergoing a kidney transplant. Read Jacqueline's story >