David Galbenski, Living-

Liver Transplant Recipient
"Henry Ford Health is an amazing transplant center. I know that anyone who goes through the transplant experience will have their chance at the best possible outcome to live an amazing life going forward."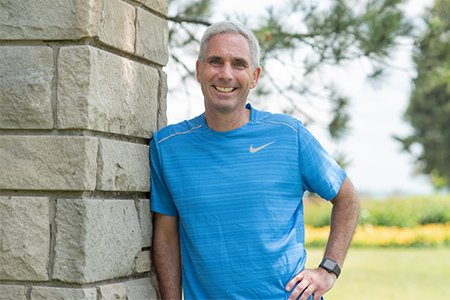 In 2013, David Galbenski, 52, of Grosse Pointe Shores, learned that he had primary sclerosing cholangitis (PSC), a rare autoimmune disease that affects the liver. When his condition had advanced to the point where he needed a liver transplant, his brother-in-law, Mark Dybis, volunteered to be a living donor. They underwent an advanced procedure where a portion of Mark's liver was implanted into David. Given the unique regenerative properties of the liver, it quickly grew back in both Mark and David.
Q & A with David
How did you find out you had PSC?
"It was a long treatment journey. In 2010, I had some routine blood work that showed some elevated liver enzymes. It took a few years before I was diagnosed via a liver biopsy, and I got the news the day after I ran the 2013 Detroit Free Press Marathon."
Did you have any symptoms?
"During my initial testing, the only symptom I had was itchy skin, particularly when I exercised. Since I was a runner, it was annoying, but not debilitating. As the disease progressed, the itching intensified. I started feeling fatigued, lost some weight, had jaundiced skin and eyes, and a cholangitis attack."
Did you have any previous liver issues, or a family history of liver issues?
"No. And I was definitely shocked to learn that I had PSC. I was only in my early 40s at that point, and there's no treatment other than transplant. It's a tough diagnosis."
When did you go on the liver transplant list?
"It was February 14, 2019--Valentine's Day. When I received my transplant list approval letter, it was National Organ Donor Day. I'm a very faith-filled person, and I viewed this as a message from God."
What did Henry Ford Health tell you about the living donor process?
"They told me there were two options once you're on the transplant list: you can have a deceased donor or a partial liver from a living donor. We talked about the benefits of having a living donor: Instead of waiting for a liver, you can schedule it when both you and the donor are available. The great thing is, by going the liver donor route, it frees up another organ for someone else who is on the waitlist."
Did you know that Mark had signed up to be a potential donor?
"Yes, a family member told me. Months later, Mark was approved to be my donor and told me and my wife, Lynn. I can't even describe the emotions I felt at that point: Incredible joy and tears over this huge gift. It was tremendous."
What did the rest of your family think about this?
"We received such strong support. It was a collaborative effort, starting with Lynn. She was the key caregiver who oversaw everything, including assembling the team of family members who were going to be our support in various areas. Since Lynn and I also ran a business together, she had to do double duty there."
How did you prepare yourself for your liver transplant?
"I created a vision board for the next year--what the next year would look like, including some key milestones. I also built a music playlist of songs that were really meaningful to me. These helped shape my mind and energy for the surgery and recovery."
What do you remember about the living donor procedure day?
"It was right before Thanksgiving in 2019. We all met early, Mark and I and our families. There was so much love in that room. I said a prayer before I went in, putting myself at peace, putting it in God's hands, but also, first and foremost, hoping everything would go well for Mark."
What do you remember about your Henry Ford liver transplant team?
"It was amazing to see the number of skilled professionals in the operating room. Everyone was focused, but kind and accommodating. They understand what patients are going through and help support us, but they also have an intense focus to get it right."
Did you notice any immediate improvement after the procedure?
"Soon after, my eye and skin tone changed dramatically. I felt more alive, and pretty soon into my recovery, my liver function improved."
How was your first year after your liver transplant?
"COVID-19 hit while Mark and I were still going through recovery, so that was a challenge, since we couldn't see family. Although we were able to do a virtual Thanksgiving in 2020, celebrating both the holiday and our one-year living donor transplant anniversary. And now that things are opening up, Lynn and I just recently went to see our daughter, Sarah, graduate from the University of Notre Dame, and the entire family was there. Without the living donor transplant, I might not have been there. I'm so grateful for Mark's gift, which created opportunities for me to experience all of these special moments."
Are you still running?
"Yes. After my recovery, I really didn't have any limitations. In fact, in the fall of 2020, I ran the virtual Detroit Free Press Half Marathon, in honor of Mark. I ran it through the Grosse Pointes, and spelled out as best I could via GPS, 'Be a Liver Donor.' Mark and I also participated virtually in this year's Transplant Games of America, an Olympic-style competition hosted by the Transplant Life Foundation. This is a great event that encourages building physical fitness post-transplant, while honoring living donors and donor families. I've also started training for the 2021 half marathon to raise funds for living donor liver transplant awareness."
What are the next steps in your post-liver transplant treatment?
"I saw my Henry Ford team pretty regularly for follow-ups right after the liver transplant, and they still monitor me through labs, MRIs and blood work. But other than this and some twice daily medications, my life is pretty much back to normal."
Of your living donor experience, what memories or feelings stick with you?
"I just have so much gratitude for the miracle. I'm grateful for Mark, my family, all of my caregivers, and for the pioneers that have made living donor transplant possible over the decades. Henry Ford Health is an amazing transplant center. I know that anyone who goes through the transplant experience will have the chance at the best possible outcome to live an amazing life going forward."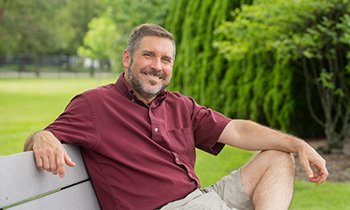 When Mark heard his brother-in-law Dave's rare liver disease had advanced to the point where he required a liver transplant, he became Dave's living donor. Read Mark's story >