Mark Dybis, Living-

Liver Transplant Donor
"I saw the opportunity to push that clock back for my brother-in-law, and I wasn't going to let that slip by without trying."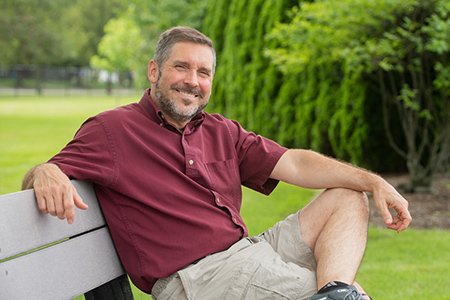 Several years ago, Mark Dybis, 51, of Grosse Pointe Woods, heard his brother-in-law Dave had been diagnosed with primary sclerosing cholangitis (PSC), a rare autoimmune disease that affects the liver. When Dave's condition advanced to the point where he needed a transplant, Mark and his wife, Karen, both signed up to be considered as living donors for a split-liver transplant, an advanced procedure where a portion of the donor liver is implanted into the recipient. Given the unique regenerative properties of the liver, it grows back in both. As luck would have it, Mark was a match.
Q & A with Mark
What did Henry Ford Health tell you about the split-liver transplant procedure?
"I started researching it early on, so I had a fairly good idea of what my part would be. Once they gave me the go-ahead, I met with Dr. Marwan Abouljoud and his team at Henry Ford Hospital. We discussed the procedure, went over my testing numbers and checked out my overall wellness, looked at my physique."
So you had to physically prepare to be a living donor?
"Yes. One of my jobs was to deliver the very best liver I could to Dave. I needed to improve my cardiovascular health, but running was out of the question since I have fallen arches and plantar fasciitis. So I researched lap swimming and hit the pool, getting myself in shape that way. I also did a deep dive into my diet and met with the dietitian on my liver transplant team. I learned just how toxic our diet has become to the human liver and made some significant changes."
How did you mentally prepare for the split-liver transplant?
"I worked on blocking out doubts. Getting into shape helped, because the better shape I could get into, the better I would ensure my own health and recovery after the procedure. I do have people who rely on me, including my wife, son and daughter, and I had to think of them, too."
What did your family think about all of this?
"When Karen and I both put our names on the list, it meant having a sit-down with the kids. We told them we're all part of a team to help their uncle. We were also fortunate to have huge support from our extended family, before surgery and during recovery."
What do you remember about the day of the liver transplant?
"I went in first while they prepped Dave for his procedure. I remember the last thing I saw, I was watching my heart rate on the monitor, and it was really low, in the 40s. The nurses looked at it and frowned, tapping the screen. Then they realized, 'oh it's just that crazy athletes' heart rate.' That made me happy, because I knew I had done everything I could to prep my body to be a living donor."
How did you feel after the procedure?
"I remember waking up in the same prep room where we had started. You have no sense of time when you're under anesthesia, and it felt like they had put me out just a moment before. So when I woke up in the same room, my first thought was, 'what went wrong, could we not do the procedure?' But it was a success."
What kind of follow-up appointments do you have?
"They were frequent at first, but then tapered off, and now I only have to go in periodically. I credit the program with giving me such a great recovery. My part of this was a cake walk. The amazing thing is that they were able to give 65% of my liver to Dave and, within 6 weeks, mine had grown back."
What else has changed since being part of the transplant community?
"I also participated in this year's Transplant Games of America. The event was virtual due to COVID-19, but I entered some of the swimming events, and Dave ran."
How did the COVID-19 pandemic affect you during your liver transplant journey?
"Our surgery day was right before Thanksgiving in 2019, and the pandemic hit during our recoveries. In 2020, we couldn't get together as a family for the holiday or to celebrate our one-year transplant anniversary, so we had a virtual event. But just recently, we celebrated Dave's daughter's graduation from the University of Notre Dame, and the whole family was there for this and in support of Dave and me."
Is there anything else you've taken away from your living donor experience?
"Life is precious. You live to a certain age, and you watch people near and dear to you die. It gives you kind of an impotent sorrow. I saw the opportunity to push that clock back for my brother-in-law, and I wasn't going to let that slip by without trying. This experience has brought all of us closer."
When Dave Galbenski's rare autoimmune disease advanced and he needed a liver transplant, his brother-in-law, Mark Dybis, didn't hesitate to be the living donor. Read David's story >