Embracing Life after Bariatric Surgery
Linda Earle's story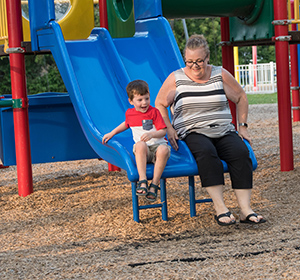 Linda Earle was devastated when she was turned away from a ride at Cedar Point because of her size. "I had squeezed myself into the seat next to my two-and-a half-year-old son, but I couldn't fasten the seatbelt. The attendant was really embarrassed to tell me I couldn't ride. There I was with my family and all the people in line watching. My mom took my place on the ride while I walked off the humiliation. That's when I realized, I really did need help," said the 40-year-old mother of two young boys. Linda has struggled with her weight all her life, but it had gotten worse after 15 years at an office job where she sits at a desk most of the day.
Her first step was a six months physician-supervised weight loss plan, which produced limited results. "My doctor was super supportive and referred me to Henry Ford Macomb. Their bariatric program is accredited as a Center of Excellence, which my insurance required," said Linda.
She attended an overview seminar, where she met bariatric nurse manager Sally Green. "Sally got tough with me and told me I needed to lose 20 pounds before I would be approved for surgery. It's a big commitment and you really have to change your mindset," Linda shared.
Finally, in November of 2017, Linda underwent a Laparoscopic Sleeve Gastrectomy, where a small stomach pouch or sleeve is created to decrease the amount of food it can hold. She has dropped 117 pounds as of August 2018—just 9 months after her operation and continues to lose weight.
After a few days of soreness, Linda was back to her office job in 2 weeks and resumed working out after one month. "Physically, it was a lot easier than I anticipated, but overall, it definitely is a big adjustment. You have to think about how you will change everything you do," said Linda. "I feel amazing, like a new person. This was the best decision I've ever made for myself," said Linda.
She advises other patients to attend Henry Ford Macomb's weekly support group, as she found it really helpful to share her struggles, what works and what doesn't work with other bariatric patients.
Rheumatoid arthritis keeps Linda from some activities, but she walks on a treadmill and does some aerobic exercises. What she loves most is playing in the park with her kids instead of watching from a bench on the sidelines.
Her family has benefited from her healthier lifestyle as well. "My husband lost 20 pounds because we're all eating better. We've cut out soda. We're cooking healthier. And the kids are happier that we go more places," said Linda. In August 2018, the family returned to Cedar Point. This time, Linda rode all the rides with her family and had the time of her life.