A Love Story: Bill and Crysta
Many couples have significant dates that symbolize milestones in their relationship. For Bill and Crysta Anderson, it's November 1.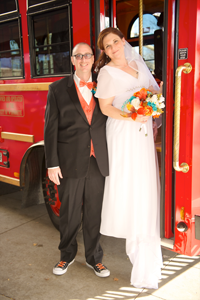 That's the day they went on their first date, got engaged and on Saturday, Nov. 1, got married.
"Not sure if it means we're superstitious," says Crysta, 34, of Windsor. "The day kind of grew on us as our relationship developed, and to get married on Nov. 1 seemed to be the perfect way to top it off."
The couple were married in a simple, quaint ceremony at Henry Ford Wyandotte Hospital, in the same room – this time dotted in wedding colors of teal and orange – in which they had met during a bariatric surgery support group meeting fall 2008. Both had undergone bariatric surgery at different times – they collectively lost nearly 400 pounds – the support group meeting being the unlikeliest cupid arrow.
The ceremony was performed by the couple's friend and yoga instructor as family and friends looked on, including Crysta's four-year-old daughter, Paige Jarvis.
The couple began dating Nov. 1, 2011, and got engaged two years later in New York's Central Park. It proved to be a whirlwind weekend, with Bill, an avid runner now, running in the New York City Marathon. Bill, 44, of Allen Park, started training for marathons shortly after his surgery as a means to stay healthy.
Crysta had an inkling Bill might pop the question so she came prepared. "I made sure to get my nails done for the trip," she said, laughing.
During their wedding preparations, it was Bill who thought it would be "romantic" to get married on Nov. 1 and keep the streak of milestones going.
After a honeymoon to Cancun, the couple are committed to supporting each other with living a healthy lifestyle. Both enjoy yoga, bike riding and actively entertaining Paige.
Watch an interview with Bill and Crysta from "CBS This Morning."