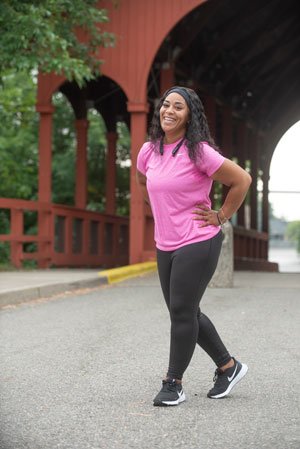 After saying goodbye to her parents eight months apart, Crystal Robertson decided to do something about her health. "Both of my parents passed due to weight related health issues. After going through that, I decided I couldn't allow this weight to kill me," she explained.
Crystal went to Dr. Jeffery Genaw from the Henry Ford Bariatric Surgery Center at Henry Ford Hospital. "We were expecting a routine surgery, but I experienced complications, which led to a long stay in the hospital and multiple follow up appointments," Crystal explains.
Despite Crystal's complications, she only has positive things to say about Dr. Genaw and his team. "This was a traumatic experience, but I can truly say that without Dr. Genaw, I would have lost it. He left no stone unturned and always made sure I knew we were in it together."
Crystal was shocked to find out that Dr. Genaw always knew everything that was going on with her treatment, even when he was on vacation. "He was there every step of the way and always had input on my care. I never felt alone."
Eighty-two pounds later, Crystal was recovering in the comfort of her own home. As she regained her strength, she began to make goals for herself. "I started with a goal to walk around the kitchen, then to the corner, then riding my bike and now I'm a runner!"
Crystal never ran a day in her life but thanks to surgery, she is now regularly running one 5k per week! "I feel like a whole new person. When I told Dr. Genaw I was going to run a 5k he said, 'We went through the trenches together so we may as well run together!"
Although public held 5k races are on hold due to the COVID-19 pandemic, Crystal has participated in several virtual runs. She is staying active and can't wait to increase her distance!