Weight Loss Brings New Energy and Motivation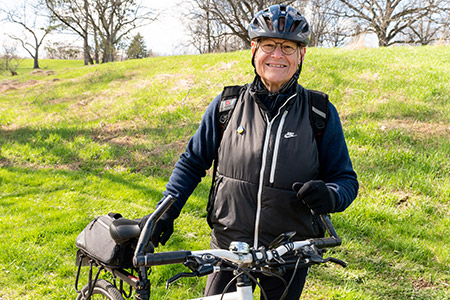 Friends of Don Fenton say he is "a different person" since having bariatric surgery—and in many ways they are right. Besides being 145 pounds lighter, Don says he has more energy than he had in his 20s. "With the Henry Ford Bariatrics team supporting me in every way, I have literally changed my life."
Don first pursued bariatric surgery in 2018, encouraged by the results some of his family members had experienced. Being over age 60, he was required to first have his heart checked out. That led to the discovery and stenting of an arterial blockage, which meant he would have to wait a year for weight-loss surgery.
In 2019, Don says he was "tired of feeling bad" and ready to restart the preparation required for bariatric surgery. "I had reached 380 pounds and was on eight medications for type-two diabetes, high cholesterol and high blood pressure. My primary care provider told me if I didn't make some changes, I was going to 'check out early,'" Don said. "It was a personal epiphany. I was ready to commit to my health and my life."
The Henry Ford Bariatrics team emphasizes that surgery is not a quick fix but one part of a journey that requires lifelong changes regarding food and physical activity. In May 0f 2021, Puraj Patel, DO, performed the surgery that began Don's transformation. From registered dietitian Megan Tarnowski, Don learned how to make healthy food choices, chew slowly and mindfully enjoy every bite.
For physical activity, Don revived his longtime interest in cycling, making it a daily habit. "I have always loved cycling, but I'd do it for a while and quit. Now I am religious about biking 35-40 miles a day. It's my passion," he said.
When Don first started biking the eight-mile loop around the lake at Kensington Metro Park, he could only make it 5 miles. That took 90 minutes, including five stops to catch his breath. Now, Don is able to do the entire loop twice in 55 minutes, without stopping.
Best of all, Don no longer needs prescription medications. His blood pressure, total cholesterol and blood sugar are all within normal ranges, and he is even sleeping better.
As an engineer, Don appreciates the "level of detail that went into the process of planning the Henry Ford Bariatric Surgery Program," he said. "Everything I need to succeed was clearly laid out for me, and I don't deviate from the plan. I know the journey is for a lifetime, and every change I make is well worth the way I feel. I have my life back."