Living Healthy after Weight Loss Surgery
When Jennifer Bond's photo was posted on Facebook for being a top sales consultant, it should have been a moment of triumph. Instead, it was a shocking wake up call. "That picture showed me what I had been trying to deny. I had to face that I had reached a very unhealthy weight, and it was devastating," Jennifer says.
Jennifer had struggled with her weight since high school, trying just about every diet program available. "I was eating healthy foods for the most part, but I was eating way too much of it," she says. "At more than 270 pounds, I had high blood pressure, daily heartburn, sleep apnea, and back, knee and hip pain. I also felt lethargic and lazy. I took a hard look at myself and decided it was time to change."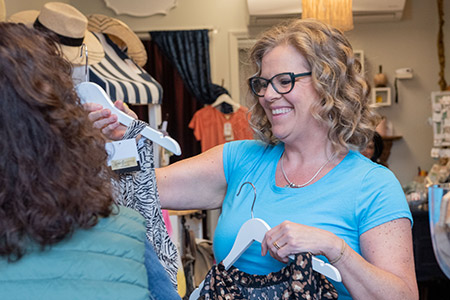 Having learned about bariatric surgery through family members and friends, Jennifer thought it might be the right choice for her. "Some of the people I knew had long-term success, but some did not. If I was going to do it, I knew I had to be all in and do it the right way," she says.
From her husband, Jeff, who works for Henry Ford Health, she knew the bariatric surgery was only one part of a weight-loss approach that also included learning to eat healthy and increasing physical activity. After attending an educational seminar and learning she met the surgery requirements, Jennifer committed to making the life-long changes necessary for success.
Jennifer's first scheduled surgery was postponed because of COVID-19 restrictions, but it finally happened in June 2020. Now down more than 100 pounds, she's retrained herself to eat mindfully and is exercising at least five days per week. She has even started a small health and fitness group on Facebook to help encourage others.
"The best part is that I feel amazing," Jennifer says. "I no longer need blood pressure medication or antacids. My joint pain is gone, so I don't need my prescription pain medication, and I was able to get rid of my CPAP machine!"
Jennifer loves being able to shop for clothes in small boutiques that were once off limits to her. And now, when it comes to group photos, she is all smiles.
Jennifer has a word of advice for others considering weight-loss surgery. "Don't let anyone criticize you by saying surgery is 'the easy way out.' If you are going to achieve long-term results, you are going to work hard. You will have every right to be proud of what you have accomplished with the support of your bariatrics team. You will have improved your health and quality of life."