What is an Early College?
Early college high school is a bold approach, based on the principle that academic rigor, combined with the opportunity to save time and money, is a powerful motivator for students to work hard and meet serious intellectual challenges. Early college high schools blend high school and college in a rigorous yet supportive program, compressing the time it takes to complete a high school diploma and the first two years of college.
The schools are designed so that low-income youth, first-generation college goers, English language learners, students of color, and other young people underrepresented in higher education can simultaneously earn a high school diploma and an Associate's degree or up to two years of credit toward a Bachelor's degree—tuition free.
Early college high schools are small schools designed so that students can earn both a high school diploma and an Associate's degree or up to two years of credit toward a Bachelor's degree. Early college high schools have the potential to improve high school graduation rates and better prepare all students for high-skill careers by engaging them in a rigorous, college preparatory curriculum and compressing the number of years to a college degree.
From: https://www.jff.org/what-we-do/impact-stories/early-college/
The design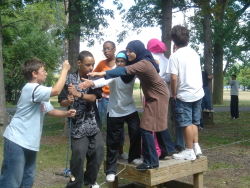 What do all early college high schools have in common?
Each early college high school develops a unique vision and a learning environment that represents community interests and student needs. However, all early college high schools share the following characteristics:
Students have the opportunity to earn an Associate's degree or up to two years of transferable college credit while in high school.
Mastery and competence are rewarded with enrollment in college-level courses and the opportunity to earn two years of college credit for free.
The years to a postsecondary degree are compressed.
The middle grades are included in the school, or there is outreach to middle-grade students to promote academic preparation and awareness of the early college high school option.
Schools provide academic and social supports that help students succeed in a challenging course of study.
Learning takes place in small learning environments that demand rigorous, high-quality work and provide extensive support.
The physical transition between high school and college is eliminated—and with it the need to apply for college and for financial aid during the last year of high school. After graduation many students continue to pursue a credential at the partner college.
Henry Ford Early College (HFEC) is an educational format administered jointly by a public school district, a college within the district, and a healthcare industry partner. Early Colleges offer an integrated curriculum of high school and college courses resulting in both a high school diploma and a college certificate, associate's degree, or up to two years of college credit. Typically, students are enrolled in Early Colleges for five years, starting with the ninth grade.
Four pillars for student success in college classes in high school
Deep sustained collaboration with college partners
Aligned academic programs from the 9th grade through 60 credits
Student support appropriate to the needs of the students and the demands of college
Continuous organizational improvement.
Early College academic features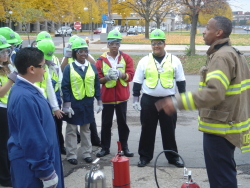 Middle College-Early College High School's have the following academic features to ensure that all students can and do earn 60 transferable college credits or an associate's degree:
Students enrolled in the HFEC have the opportunity to simultaneously complete high school, earn a significant number of college credits and receive certification. This opportunity is highlighted in all literature, in student talk, in teacher classrooms and in the ways that the school culture is visible to outsiders.
Dual enrollment in college courses is a requirement for high school graduation and everyone knows this. This results in a heightened "academic push" by all teachers and students.
Students are provided an academic and affective support system that starts in high school and is extended through community college completion for all youngsters.
There is communication between the high school and college that keeps students and students' experiences at the center of all decisions.
Henry Ford Early College provides an enlargement of the adult community, including college staff that is responsible for the high school students.
A Henry Ford Early College graduate has a better chance to go on to complete a Bachelor's degree (four years). Because students have started and completed academically challenging and rigorous work in earlier stages of development than most high school students, they have developed work habits and habits of mind that recognize them as more valued members of their community than their peers.
For more information:
Bill and Melinda Gates Foundation: Early College High Schools
Middle College National Consortium