Robot assisted urology surgery now available Downriver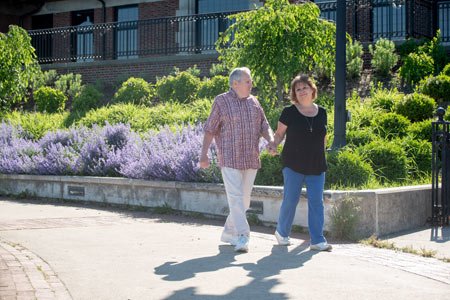 Celia Boryski of Allen Park was puzzled by the vague, worsening symptoms she was feeling.
"I'd had a few urinary tract infections here and there," she said. "I was having some pain. But what was really bothering me was when I tried to take walks, I'd get light-headed. It was affecting my life and the things I wanted to do."
She decided to see urologist Mohammed Al-Ansari, M.D. and received some surprising news. Dr. Al-Ansari quickly discovered that Celia's left kidney was not working properly, causing the array of issues she reported.
"They told me it might have been something I was born with," she said. "When they told me my kidney had to be removed I started to cry. I was scared."
Dr. Al-Ansari thought Celia, 65, would be a candidate for robot-assisted surgery to remove the kidney and referred her to Craig Rogers, M.D., chair of the Urology Department for the Henry Ford Medical Group.
Dr. Rogers and the entire team put Celia at ease.
"I'm thoroughly happy," she said. "Dr. Rogers spent time with me. He explained everything to me. I was ready."
On May 11, Celia was the first patient to have a robot-assisted kidney surgery at Henry Ford Wyandotte Hospital. It's a new level of care available to patients without leaving the Downriver community.
Less pain, faster recovery
Traditional or "open" kidney surgery means the surgeon creates a large incision and may even need to remove a rib to access the kidney. Both of these can be very painful. With robotic kidney surgery, tiny instruments and a camera are inserted through keyhole incisions. Other benefits include:
Smaller incisions, less scarring and faster healing
Decreased risk of injury to the bowel or other nearby organs
Faster return of bowel function after surgery
Fewer complications
Less blood loss
Less pain and reduced need for pain medication
Quicker return to normal activity and work
Shorter hospital stay
New, robotic-assisted urology procedures include not only kidney surgery, but prostate surgery and advanced, endoscopic procedures to eradicate kidney stones. Robot-assisted thoracic and gynecology procedures are already routinely performed at Henry Ford Wyandotte.
For Celia, the procedure meant beginning to go for those walks with her husband, Don, once again. In fact, they were strolling in the summer sun less than a month after her operation. The goal is to double her pre-surgery distance.
She is beginning to reach for the goal she was striving for when this all began by eating better and becoming more active.
"I wanted to take better care of myself – and now I can."