Robotic gallbladder surgery offers woman quick return to life.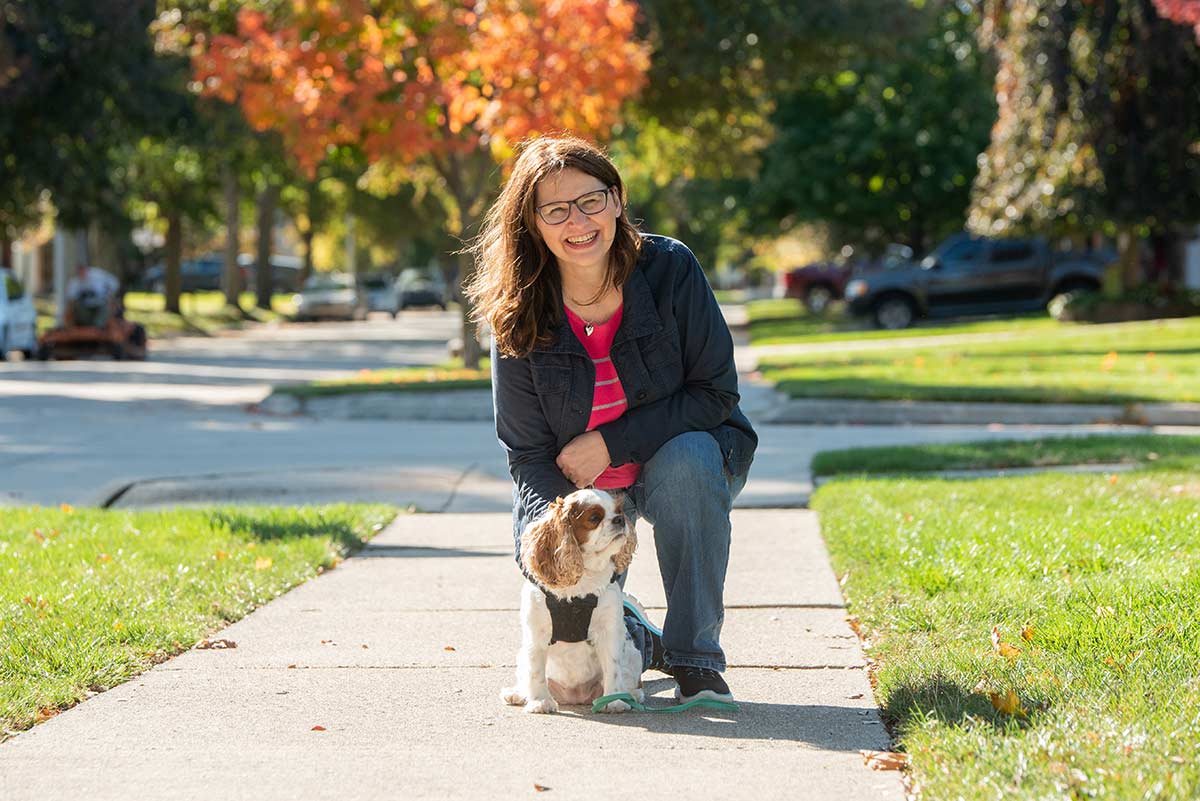 Paula Powley of Riverview was apprehensive about going to a hospital for surgery during the COVID-19 pandemic, but her gallbladder issue was becoming worse. "I had a gallbladder attack at the beginning of the year and went to the ER where they discovered I had some gallstones," Powley said. "We decided to take a wait-and-see approach, and I was fine for a while but it started to trouble me on a more regular basis."
Her doctor decided that Paula, 55, needed surgery to remove her gallbladder. She inquired about her options. "With everything going on, I asked if there was a surgery center I could go to rather than the hospital," she said.
When she heard about robot-assisted surgery coming to Henry Ford Health Center-Brownstown, she knew she had found a solution.
In mid-September, Paula was the first patient to have robot-assisted gallbladder removal surgery at Brownstown and said she couldn't be more pleased with the outcome.
"It turns out that I was the first one to have it and it was great," Paula said. "I like going to the Brownstown facility because you get a lot of attention and the care is very focused. The staff is so friendly and considerate, and each person takes the time to explain their role in your care."
New level of care
Robot-assisted surgery is a new level of care available to patients without leaving the Downriver area. Traditional or "open" gallbladder surgery involves creating a large incision near the abdomen; robotic-assisted surgery using da Vinci technology is less invasive with smaller incisions.
"My healing has gone very well," Paula said. "I haven't had any issues with incision sites, I haven't had much pain, and I've been able to get up and around."
Raymond Laird, D.O., of Laird and Laird Surgical Associates in Trenton, performed Paula's surgery and said that offering robotic-assisted procedures at the Brownstown facility benefits patients in numerous ways.
"Patients do not have to go to a hospital and the process is streamlined," Dr. Laird said. "We have the same dedicated team for all robotic surgeries. In addition, there is a quicker recovery time and patients may have less pain – resulting in less of a need for pain medication.
"Another advantage of robotic surgery is that it is 3-D. Laparoscopic surgery is only 2-D. It is also high definition. There also is a laser that can be used to see blood vessels and liver ducts to minimize injury."
Quicker return to daily activities
The addition of a DaVinci robot at Brownstown further Increases access to minimally invasive surgery Downriver.
Since her surgery, Paula has quickly resumed her normal life and activities.
"She has done extremely well," Dr. Laird said. "She had minimal discomfort after surgery and was extremely pleased."
Henry Ford Health Center-Brownstown and Henry Ford Wyandotte Hospital are the only Downriver healthcare facilities to use the da Vinci robotic procedure for gallbladder removal. The advanced technology allows surgeons to perform a more precise surgery through four small incisions totaling one inch using a camera and tiny instruments.
With the state-of-the-art da Vinci system, the surgeon uses a three-dimensional computer vision system to manipulate robotic arms. These computer-controlled arms hold special surgical instruments that are inserted into the abdomen through a tiny incision. The robotic arms are engineered with "wrists" that can rotate a full 360 degrees, allowing the surgeon to manipulate the instruments with greater precision and flexibility.
Benefits of robotic-assisted surgery include:
smaller incisions and less scarring
fewer complications
less pain and reduced need for pain medication
quicker recovery
shorter hospital stays
less blood loss
quicker return to normal activity and work
Henry Ford Wyandotte also offers robotic-assisted urology procedures, including kidney surgery, prostate surgery and advanced, endoscopic procedures to eradicate kidney stones. Robot-assisted thoracic and gynecology procedures are already routinely performed at Henry Ford Wyandotte.
Zachary Lewis, D.O., also performs robotic surgery services at Brownstown and sees firsthand the benefits that come with the procedures.
"It's less invasive for the patient and makes surgery easier for them," Dr. Lewis said. "They seem to walk out needing less time to recuperate and fewer pain medications."
Dr. Lewis also stresses the better visualization and articulation that mimics open surgery. "It blends the best aspects of open surgery with laparoscopy," he said. "It really is amazing." For others thinking about having robotic surgery, Paula is quick to put any fears to rest.
"Some patients might be nervous about the doctor using a robot, thinking they aren't in control but that's not the case," she said. "It's assisting them to be more precise in what they know – like an extra level of assurance in my mind.
"Today we have computers in our cars and in so many aspects of our lives. If you think about it in those terms, it doesn't take anything away from that, it just helps you be a better driver."