Henry Ford Recognized Once Again as a National Leader in Diversity and Inclusion
May 8, 2019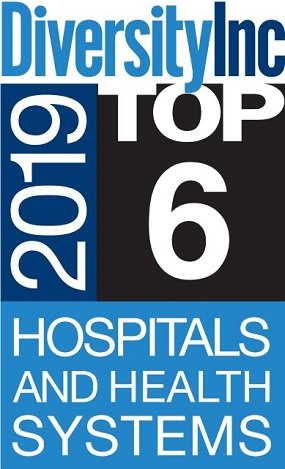 DETROIT - Henry Ford Health System continued its run as a top hospital and health system after being recognized in a 2019 national ranking of organizations that excel at promoting diversity and inclusion.
The announcement from DiversityInc came May 7 in New York City. DiversityInc selected six hospitals and health systems that demonstrate leadership and success in areas such as hiring, retaining and promoting women, minorities, people with disabilities, LBGTQ individuals and veterans. Henry Ford also strongly promotes supplier diversity and workforce diversity.
DiversityInc has recognized Henry Ford's commitment to diversity and inclusion several years running.
Dr. Kimberlydawn Wisdom, senior vice-president of Community Health & Equity and Chief Wellness & Diversity Officer for Henry Ford, was honored to represent Henry Ford at the May 7 diversity and inclusion event and grateful to provide leadership at local, state and national levels.
"It's good to be among colleagues where we strive to foster change at the practice, programmatic, policy and partnership level. Awards of this nature reflect our commitment to not only addressing diversity and inclusion, but also fostering innovation and eliminating health and healthcare disparities," she said.
Dr. Wisdom said she is proud that Henry Ford maintains, refines and continues to increase efforts to promote a diverse workplace and workforce.
"A diverse workplace makes for a better environment in every way," Dr. Wisdom said. "It's better for patients, the community and our employees.
Henry Ford looks at diversity through several filters: workforce, health, marketplace, supply chain, structural, behavioral and dimensions that extend beyond race, ethnicity and gender.
Nina Ramsey, senior vice president and Chief Human Resources Officer for Henry Ford, said, "It's imperative to focus on diversity from every angle. Doing so helps anticipate the needs of an always-changing world. It guides us as we work to create an environment for employees that makes them happier on and off the job. Happier employees contribute to a better environment for team members and patients we care for and support."
"Diversity always comes back to the community we serve," Ramsey said. "Our workplace should reflect the people in the community and support both the employees and the community they serve."
DiversityInc is the nation's leading publication in advancing excellence in diversity management. It objectively analyzes dozens of areas in health care management diversity and the impact on patient care delivery. Companies with more than 1,000 U.S.-based employees were eligible to enter the competition at no cost.
Henry Ford's Diversity Initiatives Include:
A system-wide Healthcare Equity Campaign, focused on raising awareness, improving cross cultural communication, and integrating changes into system policies.
Henry Ford Health's ongoing and systemic effort to combat unconscious bias, promote cross-cultural competence, and detect and correct pay inequity.
The Diversity Forum – Comprised of the senior leaders in the system and chaired by the Henry Ford Health CEO Wright Lassiter, III. This group brings visibility for diversity and inclusion to the top of the organization. The Forum reviews and signs off on diversity metrics and progress, ensures diversity is incorporated in strategic business goals and makes policy recommendations.
Leadership Commitment to Diversity – Several Henry Ford Health leaders serve as cross-cultural mentors to individuals from a different race/ethnicity/gender than her/himself, serve as executive sponsors of Henry Ford Health Employee Resource Groups (ERGs) and have a senior advisory position (such as chair or board member) at nonprofit or educational organization that focuses on people from traditionally underrepresented groups.
Diversity Council – Comprised of various levels of leaders within the organization, and together they drive and support Diversity and Inclusion work as we continue our focus on implementing strategy and integrating this work into all that we do.
Ten ERGs for women, Hispanic/Latino, Middle Eastern, African American, Generation Y, caregivers, African American physicians, veterans, individuals living with a disability and lesbian, gay, bisexual and transgender (LGBT) employees.
Health Equality Index (HEI) Award – In recognition of Henry Ford Health's efforts to create an equitable, knowledgeable, sensitive and welcoming environment for LGBT patients and their families 4 Henry Ford Health hospitals (Henry Ford Hospital, Henry Ford Macomb Hospital, Henry Ford West Bloomfield Hospital and Henry Ford Wyandotte Hospital) earned the "LGBTQ Healthcare Equality Leader" designation in 2018; with each scoring 100 percent on the annual HEI survey.
Disability Tracker – Henry Ford Health has done an assessment of our current employment practices with a focus on disability inclusion and has created an ERG for individuals living with a disability. Henry Ford Health also has a partnership with Michigan Rehabilitation Services to develop system-wide initiatives around hiring persons with disabilities.
Supplier Diversity – Henry Ford Health supplier diversity employs one of the best practice tools to ensure inclusion in supplier diversity. The Tier 1 system-wide Transparent Sourcing Policy shows Henry Ford Health's commitment to the growth of small, women, LBGT and minority-owned businesses and the economic revitalization of the region. The Policy states, "any purchases over $20,000 must be competitively bid and include 1 or more diverse suppliers."
Henry Ford has joined more than 1,000 hospitals and health systems nationwide in signing the American Hospital Association's 123 for Equity Pledge to Act to eliminate health care disparities.
The Institute on Multicultural Health's Healthcare Equity Scholars Program.
MEDIA CONTACT: Kim North Shine / knorth1@HFHS.org / 313-549-4995