Henry Ford Athletic Trainers Redeploy to Support COVID-19 Efforts
March 27, 2020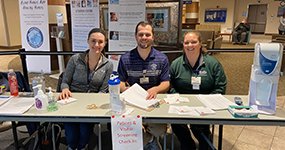 DETROIT – With Michigan hospitals working to meet the growing surge of patients who have tested positive for the coronavirus or are awaiting test results, the situation has taken an all-hands-on-deck urgent approach. Healthcare workers from all disciplines are doing anything and everything they can to support the front-line caregivers.
In one example of redeploying resources, Henry Ford athletic trainers, a team of more than 40 licensed professionals that traditionally work in outreach settings across secondary schools, college/university and professional teams, have jumped into action to fill staffing needs during the COVID-19 pandemic and are providing essential support to the system in many ways including:
COVID-19 health screenings for employees, incoming patients and essential visitors, and communicating new visitor policy
Assisting in emergency rooms and walk-in clinics
Transporting patients to isolation wings ensuring safety protocols are followed
Reaching out to pharmacy patients to encourage the use of Henry Ford's Pharmacy Advantage mail order service, confirming information and helping package prescriptions for delivery
Rehabilitating patients with orthopedic injuries that need essential care
A small percentage of athletic trainers have maintained their outreach-focused roles to ensure that the health care of athletes is continued, both in-person as appropriate and via telehealth channels.
"I admire the dedication and willingness of our athletic trainers to quickly shift their focus from their normal daily operations to the unique patient and staffing needs that have arisen during the COVID-19 pandemic," said Robert Albers, D.O., part of the Sports Medicine Primary Care physicians team at Henry Ford. "I am confident that their skill sets will allow them to play a critical role in supporting our medical community during this time of need."
In Michigan, athletic trainers are licensed health care providers through the Michigan Department of Licensing and Regulatory Affairs (LARA), the same governing body that regulates licensing for physicians, physician assistants, registered nurses and physical therapists.
"Given that our national and local efforts have shifted to the COVID-19 pandemic, I am very proud of our athletic trainers for utilizing their expertise and skill set for the continuum of patient care," said Christina Eyers, Director of Athletic Training & Community Outreach at Henry Ford Health System.
Kady O'Connell is one of about 30 athletic trainers pitching in across the system. She's helping with employee, patient screening and pharmacy mail order shipments, "We all share the same mindset that we are all in this together and that's the only way we can get through this situation," she said. "Our team is very adaptable and wherever we can lend a hand, we're very happy to help."
Henry Ford athletic trainers are highly qualified, multi-skilled health care professionals who collaborate with our physicians to provide preventative services, emergency care, clinical diagnosis, therapeutic intervention and rehabilitation of injuries and medical conditions. They work under the direction of a physician as prescribed by state licensure statutes and support the athletic programs at over 20 Metro-Detroit area high schools, college and universities, and professional teams throughout the tri-county area.
###
MEDIA CONTACT: Sal Giacona / 313-421-9108 / sgiacon1@hfhs.org