Henry Ford Health System Staff Creates Personal Protective Equipment Amid Supply Shortage
March 20, 2020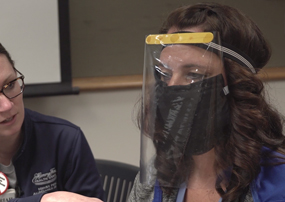 DETROIT – Henry Ford Health System staff have devised a creative solution to the shortage of personal protective equipment (PPE) currently affecting hospitals across the country amid the COVID-19 pandemic. Using everyday items, staff are creating homemade facemasks and eye protection to keep healthcare providers on the frontlines safe during this global health emergency.
"We have an innovation challenge aimed at getting the best and brightest ideas from our 33,000 employees, and this is one of them," said Scott Dulchavsky, M.D., CEO of the Henry Ford Innovation Institute. "There is a critical shortage of the personal protective equipment our healthcare providers need. In response to that, staff from across Henry Ford are creating homemade eye protection and face masks that are washable, do not degrade if placed into a bleach cleaning solution, and can be reused, within reason."
Some of the materials that comprise these PPE items include nylon jersey fabric, elastic bands, Velcro, tongue depressors and air filter material. In a video featuring Mariah Foster and Chantell Krage, both of Henry Ford Allegiance Health and part of the design team that created these products, they explain the thoughtful design that went into these PPE items – short-term fixes during a temporary shortage.
"We hope to replenish our stock of regularly produced masks as quickly as possible," Dr. Dulchavsky said. "Because we use thousands of masks every day in a healthcare environment, we plan to ramp up to making 500-1,000 of these masks daily at hospitals throughout our system to bridge the brief gap between now and when we receive our regular masks."
In Detroit, Henry Ford Innovation Institute's Alex Moceri, a product designer, and Lisa Prasad, a senior advisor, gathered the supplies needed to make the masks. Once gathered, they were joined by a dozen volunteers – fellow staff from Henry Ford Hospital, including medical assistants and secretaries from the Department of Urology and the Department of Neurosurgery. For Moceri, who usually creates 3D models of hearts, the project was meaningful and important.
"It's a very crafty and helpful way to replace what we don't have," Moceri said. "I think it's phenomenal that we are coming together as a system and doing something about this problem. We have to do everything we can to keep our teams healthy so they can continue caring for our patients in need."
According to the Centers for Disease Control and Prevention, when N95 respirators and surgical masks are limited to where routinely practiced standards of care are no longer possible, "it may be necessary for healthcare providers to use masks that have never been evaluated or approved by NIOSH or homemade masks. It may be considered to use these masks for care of patients with COVID-19, tuberculosis, measles, and varicella."
###
MEDIA CONTACT: Jeff Adkins / (586) 307-2027 / jadkins6@hfhs.org