When Returning to Outdoor Sports, Here's How to Avoid Injury
June 9, 2021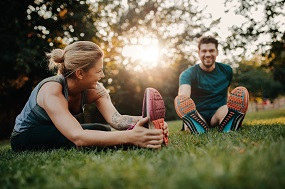 DETROIT – As more people flock outdoors to their favorite sports activities, minimizing the risk of injury is all about planning and prevention, say Henry Ford Health System sports medicine experts.
Hydrating, easing into your activity and wearing proper clothing are a must for any weekday or weekend warrior.
"Even though the warmer weather makes us feel more energized, we should focus on starting activities at a gradual pace. Don't rush into new activities and don't be too quick to increase workout frequency or intensity. Make sure to listen to your body and advance your activities as tolerated," said Laura Owczarek, M.D., a Sports Medicine and Emergency Medicine physician.
Dr. Owczarek points out that most common sports activities-related injuries are generated by overuse, such as tendonitis or tennis elbow and conditions including sprains, broken bones and spinal injuries. Other injuries may occur with the joints or connective tissue, including ligament strains or tears and pulled hamstrings.
"An important part to preventing injuries is to take the time to properly warm up before your sport. By warming up, you increase your heart rate, get your blood flowing and prime your body for activity," said Nick Parkinson, Supervisor of Athletic Training at the Henry Ford Center for Athletic Medicine.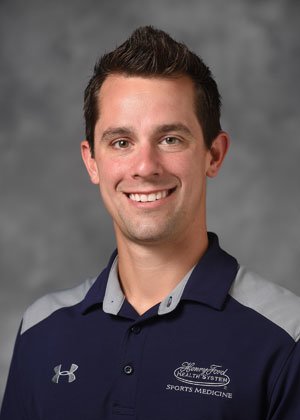 Parkinson recommends keeping warm-ups simple by doing exercises like butt kicks, high knees, arm circles and jumping jacks. These simple precursors to sports activities help balance heart rate, increase blood circulation throughout the body and stretch muscles that have been out of action for a while.
Athletes of all ages involved in outdoor sports activities are susceptible to the typical sprain of the ankle, knee, wrist or back, which are actually stretches or tears of associated ligaments. Even when taking it slow, injuries can still happen and knowing how to treat them can minimize recovery time.
"The first thing to do when you notice a pain or discomfort is to give your body some rest," Dr. Owczarek said. "You can also try ice, compression and elevation to reduce any swelling or inflammation. If things are not improving with these treatments, I would recommend coming in to see a sports medicine specialist and get evaluated."
Here are key tips before returning to outdoor sports activities:
Wear proper clothing. You should wear clothes that are loose and comfortable made of synthetic, light-weight material designed for comfort during workouts. If you are running or biking, avoid wide-leg or loose pants that could get tangled up in the pedal or your feet.


Stretch it out. Make sure to stretch properly before any sport or activity. It's important to stretch both sides of the body equally.


Ease into your training. Start gradually in order to decrease the chance of sports injuries. You should not go from being off sports or not running to a game or marathon. This puts your body at huge risk of injury.


Hydrate before and during exercise. Drink 17 to 20 ounces of water 2 to 3 hours before you start exercising. Drink 8 ounces of water 20 to 30 minutes during your warm-up. Drink 7 to 10 ounces of water every 10 to 20 minutes during exercise.


R.I.C.E. If you overdo it, remember the R.I.C.E method – Rest, Ice, Compression, Elevation. Rest can be an active rest. Meaning, instead of running maybe you hop on the bike. Instead of throwing you do some running and lower body workout.


Listen to your body. If you have any pain with activity, don't put off seeing a doctor, athletic trainer, or sports medicine professional.


Take time to recover. If you do become injured, taking time to recover is very important. Returning to play too soon increases the risk of making the injury worse.


Keep it up. If there are any intermittent breaks in your training schedule, keep up your routine at home.


Keep your expectations in check. The longer you've been sedentary, the more time you'll need to get back in shape. For example, if you previously worked out three to four times per week, it will take about four to eight weeks for you to get back to your previous levels.
In addition to these physical precautions, it's also very important to continue following COVID-19 safety precautions.
Some outdoor sports activities can be relatively low risk, especially if you do them alone or participate only with people who live in your home. Playing team sports where masks aren't worn and at least 6 feet of separation is not possible greatly increases the risk of contracting and spreading COVID-19 according to CDC guidelines on playing sports. Vaccination is the best way to protect yourself and those around you.
"We've all developed COVID fatigue. We're all tired of restrictions and physical distancing requirements," said Jennifer Burgess, D.O., a primary care physician at Henry Ford Health System. "But COVID-19 is still a real threat. We still have to protect ourselves from exposure. The only way to do that is to follow safety precautions."
For those beginning any exercise program, a consult with your physician is recommended. For more information on sports exercise or to schedule an appointment within 24 business hours call 313-651-1969 or visit www.HenryFord.com/athletes.
###
NEWS MEDIA CONTACT: Sal Giacona / sgiacon1@hfhs.org / 313-421-9108