A Public Appeal to Get Your Shot and Mask Up; The Facts About Vaccines and Pregnancy
August 4, 2021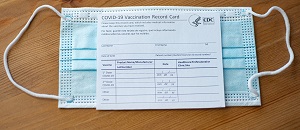 DETROIT (August 4, 2021) – With hospitalizations and infections on the rise from the highly contagious Delta variant, the chief clinical officer at Henry Ford Health System appealed to the public Wednesday to get vaccinated and mask up to prevent a fourth surge of coronavirus in Michigan.
Adnan Munkarah, M.D., Executive Vice President and Chief Clinical Officer, said its healthcare workers are exhausted and weary and have grown frustrated that people are dodging the very thing that can protect them from serious illness, hospitalization and death. According to state of Michigan data, 63.8% of residents ages 16 and older have received at least one dose and 54.1% are fully vaccinated.
"If we don't contain this at this present time," Dr. Munkarah said during a briefing with reporters, "I'm afraid we'll be in a situation where we'll face another surge."
Because of high transmission rates in certain Michigan counties, Dr. Munkarah recommended mask wearing for both vaccinated and unvaccinated people in indoor public settings, citing CDC criteria.
Dr. Munkarah reported that 48 patients were hospitalized at Henry Ford for COVID-19, doubling the number of admissions from just a week ago. He called it a "very concerning trend," adding that most of the hospitalizations are patients who are unvaccinated.
The health system has seen an uptick in vaccinations in the past two weeks. Currently, 74% of its workforce is vaccinated. To date, nearly 90 healthcare systems across the country have announced they are implementing a vaccine requirement for their employees.
"We know we have plenty of data to show that vaccines work, not only in the United States but around the world," Dr. Munkarah said. "Let's get this (pandemic) behind us. Let's make sure we're part of the solution so that we don't have another major crisis ahead of us."
To address vaccine hesitancy for women who are thinking about starting a family or expecting, Richard Leach, M.D., Chair of Women's Health Services, had a reassuring message that receiving the vaccine is safe. He said the recent announcement by the American College of Obstetricians and Gynecologists and the Society of Maternal-Fetal Medicine endorsing vaccination for expectant moms was "an important recommendation." Over the past several months, "thousands" of pregnant women have shown the vaccine is safe and effective, he said.
"We know that contracting COVID during pregnancy increases the risk for severe, life-threatening complications for both the mother and the fetus," Dr. Leach said.
Dr. Leach strongly advised expectant mothers to rely on the guidance of their trusted doctor and "avoid misguided and untrue information that is being pushed on social media and the internet." He encouraged women and their partners to talk to friends and family members who have received the vaccine during pregnancy.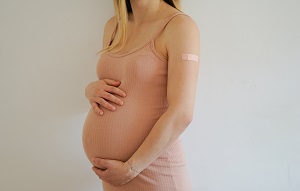 "Today, more than ever, knowledge is power," he said. "We encourage women and their partners to arm themselves with information that is grounded in science and listen to the outstanding recommendations that now are being supported by real data across the country." Dr. Leach also addressed common falsehoods about vaccine safety, miscarriage and fertility:
The 3 vaccines approved for emergency use authorization in the U.S. are safe and effective. The Moderna and Pfizer vaccines do not contain the live virus that caused COVID – thus the mother can't give their baby COVID. Studies have shown that people who received the Moderna and Pfizer vaccines during pregnancy have passed the antibodies to their fetuses, which may protect them after birth
There is no scientific evidence that the COVID vaccines cause miscarriage. The number of women who have miscarriages after vaccination is similar to the number of women who have miscarriages in the general population.There is no scientific evidence that the vaccines can cause birth defects in an unborn child
There is no scientific evidence that the vaccines affect fertility in women or men, and no reason to delay trying to conceive after vaccination
"Patients, for whatever reason, for wherever they're getting their information, they have a preconceived opinion that is driving their decision," Dr. Leach said. "Trying to debunk every little bit of information they think they've heard correctly is sometimes difficult. It does take time to convince them."
###
NEWS MEDIA ONLY may contact: David Olejarz / David.Olejarz@hfhs.org / 313-303-0606
About Henry Ford Health System
Founded in 1915 by Henry Ford himself, Henry Ford Health System is a non-profit, integrated health system committed to improving people's lives through excellence in the science and art of healthcare and healing. Henry Ford Health System includes Henry Ford Medical Group, with more than 1,900 physicians and researchers practicing in more than 50 specialties at locations throughout Southeast and Central Michigan. Acute care hospitals include Henry Ford Hospital in Detroit, MI and Henry Ford Allegiance Health in Jackson, MI – both Magnet® hospitals; Henry Ford Macomb Hospital; Henry Ford West Bloomfield Hospital; and Henry Ford Wyandotte Hospital.
The largest of these is Henry Ford Hospital in Detroit, a quaternary care research and teaching hospital and Level 1 Trauma Center recognized for clinical excellence in cardiology, cardiovascular surgery, neurology, neurosurgery, and multi-organ transplants. The health system also provides comprehensive, best-in-class care for cancer at the Brigitte Harris Cancer Pavilion, and orthopedics and sports medicine at the William Clay Ford Center for Athletic Medicine – both in Detroit. As one of the nation's leading academic medical centers, Henry Ford Health System annually trains more than 3,000 medical students, residents, and fellows in more than 50 accredited programs, and has trained nearly 40% of the state's physicians. Our dedication to education and research is supported by nearly $100 million in annual grants from the National Institutes of Health and other public and private foundations.
Our not-for-profit health plan, Health Alliance Plan (HAP) provides health coverage for more than 540,000 people.
Henry Ford Health System employs more than 33,000 people, including more than 1,600 physicians, more than 6,600 nurses and 5,000 allied health professionals.