Henry Ford Reports Progress on Nurse Recruitment as COVID Cases Start to Slow
January 19, 2022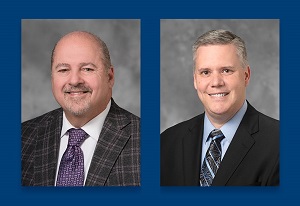 DETROIT (January 19, 2022) – Henry Ford Health System said Wednesday that it is making progress with its nurse recruitment effort in the Philippines and that the first cohort of nurses could arrive as early as this summer.
The announcement, coupled with small signs that COVID-19 hospitalizations and infections were slowing, came during a briefing with reporters led by Bob Riney, President of Healthcare Operations and Chief Operating Officer, and Eric Wallis, DNP, R.N., Senior Vice President and Chief Nursing Officer.
With about 1,000 registered nurse vacancies across the health system, Wallis is leading short-term and long-term strategies to address a national nursing shortage that began well before the pandemic in 2020.
According to recent data compiled by the American Hospital Association, nurse staffing demands at hospitals increased by 245% from September 2020 to December 2020. Nurses have been leaving the healthcare workforce at record rates and that has led to job vacancies for nursing positions across the country to increase by as much as 30% from 2019 levels.
Still, the nursing profession continues to enjoy unprecedented support. Last week Gallup released their annual poll of the most honest and ethical professions, and nurses were ranked at the top of the poll – for the 20th year in a row.
"Nurses are often the face patients see the very most at their bedside. Nurses take on the role of being their advocate, being their communicator, and being the person who is there to support the patient and ensuring (they) achieve their very best outcomes," said Wallis, who assumed the CNO position on Dec. 1 after serving as President of Henry Ford West Bloomfield Hospital since 2019. "The sacred bond of trust that patients have with nurses is unique."
Wallis said the first nursing cohort from the Philippines is expected to arrive as early as this summer. A cohort would comprise 20-50 nurses and would be assigned to Henry Ford hospitals, one hospital at a time.
"As they relocate to Michigan, we want to help build a sense of community and support system around them," Wallis said. "We are really blessed to have a number of Philippine nurses who we recruited all the way back in the 90s who are still very much a part of our healthcare system who have volunteered to be engaged in this effort, so we can do this even better than it was done 30 years ago."
Wallis highlighted other key recruitment strategies including:
Building on Henry Ford's partnership with Michigan State University. Currently, some MSU nursing students are in clinical rotations at Henry Ford, and those rotations are expected to grow significantly in the years to come.
Exploring new ways to enhance pay practices and other incentives to attract and retain nurses.
Enhancing partnerships with existing nursing partners to boost clinical rotations.
Increasing the diversity of the nursing workforce to "better reflect the communities we serve."
Wallis said the future of nursing will include new models of care and technology to automate certain processes to free up nurses to perform more efficiently.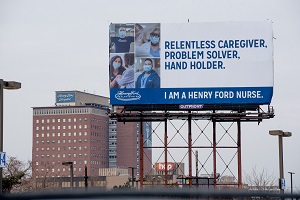 "Our nurses and the partnerships they have with physicians and other healthcare providers are essential," he said. "One of the things I'm very focused on is ensuring our nurses are viewed as trusted partners in the patient's care, as well as the entire healthcare team. Like our new billboards going up say, Henry Ford nurses are relentless caregivers and problem solvers."
Riney said the slowing of hospitalizations and infections offered a glimmer of hope and optimism. Hospitalizations were 499, down from 551 on Monday. The positivity rate was 33 percent, a significant drop from 44 percent during the first part of January. Because of the highly contagious Omicron, he urged continued vigilance with mask wearing in indoor public settings and getting vaccinated and boosted.
"We will take these trends as a sign of optimism for days to come," Riney said.
Of those hospitalized, more than 90 percent did not receive a booster shot, underscoring the importance of that third dose of vaccine. This includes patients in the intensive care unit and on a ventilator. "We know that vaccinated patients who receive a booster shot retain some additional and significant protection over unvaccinated patients," Riney said, for decreased illness, hospitalizations and death.
Riney said 77 beds were temporarily closed, down from 87 the previous week. Currently, 473 team members were off work due to COVID from community spread, down from 593 a week earlier.
"Again, seeing a theme of this trend that we're very, very hopeful for," he said. "This is such welcome news for the health, strength and resiliency of our team."
Riney concluded his remarks with a message to the community.
"Our team members continue to do an unbelievable job and they inspire us every single day with their fortitude and their heart. The heart they bring into this battle two years plus in the making," he said. "So, if you have a loved one or you yourself are being cared for by a healthcare worker or you cross paths with a healthcare worker, not just a Henry Ford Health System care worker but any care worker, please, please be sure to tell them how much you appreciate them. That provides them some energy, it provides them hope and it provides them recognition. It may seem simple, but we hear about how they are lifted when they just know the community says, 'we got you, we hear you, we understand and boy, do we appreciate you.'"
###
NEWS MEDIA ONLY may contact: David Olejarz / David.Olejarz@hfhs.org / 313-303-0606