Henry Ford Physician Co-Authors Policy Statement for National Cardiology Society on Building Respect, Civility and Inclusion
March 17, 2022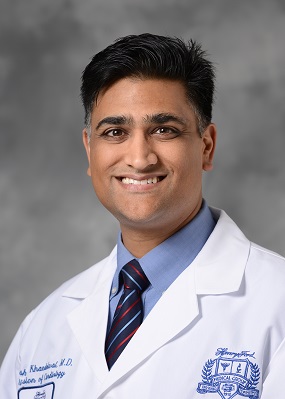 DETROIT (March 17, 2022) – Henry Ford Hospital's associate division head of Cardiology Akshay Khandelwal, M.D., co-authored an innovative and unique health policy statement published in the Journal of the American College of Cardiology that addresses building respect, civility and inclusion in the cardiovascular workspace.
"While this policy document is written for the cardiovascular workplace, I believe the recommendations reflect the changes we are seeing in the workplace in general and will continue to gain traction," said Dr. Khandelwal. He said that some existing Henry Ford policies on harassment and discrimination were shared with the American College of Cardiology's Clinical Policy Committee that will be part of a future online resource for best practices.
"Building a more inclusive culture filled with respect and civility is essential if we are to truly transform cardiovascular care and improve heart health," said Dr. Khandelwal, one of 16 co-authors on the ACC Writing Committee that drafted the policy statement.
The 63-page policy document is primarily written for the cardiovascular workplace, which includes cardiologists, cardiovascular scientists, cardiologists-in-training, nurses, technicians, advanced practice providers, patients, and patient families.
Uncivil and toxic behavior, including bias, discrimination, bullying and harassment, has been well-documented in medicine and cardiology. A recent survey found over one-third of resident doctors and faculty reported experiencing bias, discrimination, bullying and harassment at their main place of work and the behaviors were more commonly reported as directed toward women and racial/ethnic minorities. Uncivil behaviors are a spectrum, including microaggressions and implicit bias on one end, and harassment and violence on the other. The behaviors can be intentional or unintentional, refer to many personal identities (including but not limited to age, religion, sexual orientation, gender identity, physical ability, professional role, appearance, clothing and country of origin) and are the result of individual, organizational and societal issues. Recent years have placed emphasis on diversity, equity and inclusion, but according to the statement authors, "belonging" needs to be recognized to address critical cultural issues.
Among the recommendations set by the authors to help eliminate bias, discrimination, bullying and harassment:
Establishing confidential and fair mechanisms for reporting and investigating individuals and/or departments suspected or accused of bias, discrimination, bullying and harassment.
Creating institutional resources to ensure that hiring decisions and performance evaluations are objective.
Adopting metrics supported by data collection to track progress and inform future plans.
Embracing independent evaluation of culture and the effectiveness of efforts to reduce uncivil behavior.
Recognizing champions and leaders who promote and model excellence in these areas.
The 2022 ACC Health Policy Statement on Building Respect, Civility, and Inclusion in the Cardiovascular Workforce will be discussed in a session at the American College of Cardiology's 71st Annual Scientific Session on April 2 at 4:15 p.m. ET. Learn more about the session here.
###
MEDIA CONTACT: Sal Giacona / [email protected] / 313-421-9108