Henry Ford Health Researchers to Study Impact of Genomic Testing for Heart Disease Patients
April 11, 2023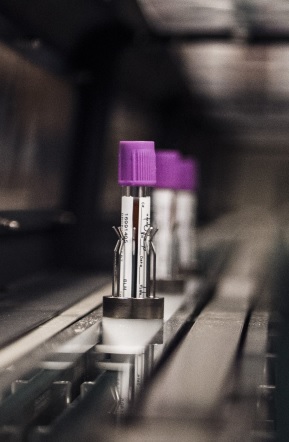 DETROIT (April 11, 2023) – Henry Ford Health research teams are launching a series of clinical studies in partnership with Illumina Inc., a global leader in DNA sequencing and array-based technologies, to assess the impact of comprehensive genomic testing in various disease areas. The first study launched today, CardioSeq, will include 1,500 patients receiving care from the Division of Cardiovascular Medicine at Henry Ford Health.
The Lisa and Christopher Jeffries Center for Precision Medicine and the Center for Individualized and Genomic Medicine Research at Henry Ford Health will conduct a series of clinical studies that will investigate the use of next-generation sequencing tests, including whole-genome sequencing (WGS), to assess their impact on clinical care, and how it impacts routine clinical care. The focus will be in disease areas with substantial clinical and economic burden to the healthcare ecosystem, and with particular interest in diverse racial populations and underserved groups.
"This study is the first of several that will measure the impact of whole genome sequencing in patients with cardiovascular disease," said David Lanfear, M.D. M.S., Vice President of Clinical and Translational Research at Henry Ford Health, and the study's lead clinician. "What we're initially most interested in is the rate of the change in medical management due to the genetic information, but eventually we will be looking at differences in cost and clinical outcomes as well."
"We are fortunate to have Dr. Lanfear, a leading expert in cardiovascular genomics, involved with the CardioSeq study," said Herb Aronow, M.D., Medical Director of Heart & Vascular Services at Henry Ford Health. "We believe that through participation in CardioSeq, we will be able to better assess and more effectively treat our patients with peripheral and coronary artery disease, aortic syndromes, abnormal cholesterol, heart failure and heart rhythm disorders."
"We are honored to partner with Henry Ford Health to assess the potential benefits of a standardized approach to integrating genomic testing within specialized care centers in the health care system," said Phil Febbo, M.D., Chief Medical Officer at Illumina. "We intend for our partnership to demonstrate the benefits of such an approach for individual patients and the broader health care system, especially in underserved communities."
Cardiovascular disease is the leading cause of death globally, according to the World Health Organization, including in the United States. Genetics play an important role in determining a patient's risk of developing cardiovascular disease and how they respond to commonly prescribed medications. The CardioSeq study will use an Illumina-developed and accredited clinical test, which leverages whole-genome sequencing, to create a comprehensive cardiovascular genomic profile. Genomic profiling can provide clinicians and patients a more complete picture upon which to base decisions. For example, individuals who might not otherwise know that they are at high risk for heart disease might become more vigilant about other modifiable risk factors, such as their weight, smoking status and level of physical activity. Genomic information could also help improve patient health by prompting earlier testing and diagnosis, reducing unanticipated medication side effects and improving clinicians' ability to select the right medication for the patient.
The WGS test used in CardioSeq will assess each patient for more than 200 genetic causes of cardiovascular disease as well as the American College of Medical Geneticists and Genomics (ACMG) recommended secondary findings genes, which are genes associated with known inherited conditions (many are non-cardiovascular) where interventions are available to mitigate the onset or severity of the clinical outcome. The test also returns full pharmacogenetic results, based on Food and Drug Administration and The Clinical Pharmacogenetics Implementation Consortium (CPIC) guidelines, providing valuable insights into how an individual will respond to a particular drug, based on their DNA.
Genetic counselors will report any inherited disease findings to participating patients and provide them additional education. Pharmacists will review all pharmacogenetic findings and make indicated recommendations. The findings will also be shared with the patients' physicians. Henry Ford Health researchers aim to complete testing in all 1,500 CardioSeq participants in 2024.
The consented samples and clinical data will also be used by the partners for discovery efforts in genomic medicine to further the field of cardiovascular wellness and treatment.
For more information about Henry Ford Health's Precision Medicine, visit henryford.com/services/cancer/treatments/precision-medicine.
###
MEDIA ONLY MAY CONTACT: Sal Giacona / sgiacon1@hfhs.org / 313-421-9108
ABOUT HENRY FORD HEALTH
Serving communities across Michigan and beyond, Henry Ford Health is committed to partnering with patients and members along their entire health journey. Henry Ford Health provides a full continuum of services – from primary and preventative care, to complex and specialty care, health insurance, a full suite of home health offerings, virtual care, pharmacy, eye care and other healthcare retail.
It is one of the nation's leading academic medical centers, recognized for clinical excellence in cancer care, cardiology and cardiovascular surgery, neurology and neurosurgery, orthopedics and sports medicine, and multi-organ transplants. Consistently ranked among the top five NIH-funded institutions in Michigan, Henry Ford Health engages in more than 2,000 research projects annually. Equally committed to educating the next generation of health professionals, Henry Ford Health trains more than 4,000 medical students, residents and fellows every year across 50+ accredited programs.
With more than 33,000 valued team members, Henry Ford Health is also among Michigan's largest and most diverse employers, including nearly 6,000 physicians and researchers from the Henry Ford Medical Group, Henry Ford Physician Network and Jackson Health Network.
The health system is led by President and CEO Robert G. Riney and serves a growing number of customers across 250+ locations throughout Michigan including five acute care hospitals, two destination facilities for complex cancer and orthopedics and sports medicine care, three behavioral health facilities, primary care and urgent care centers.