Henry Ford Health Researcher Awarded Prestigious Grant from National Institutes of Health to Study Liquid Biopsy for Glioma Brain Tumors
July 27, 2023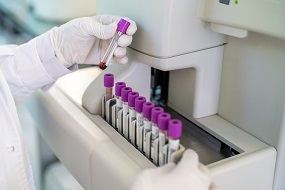 DETROIT – Houtan Noushmehr, Ph.D., a researcher at Henry Ford Health, has been awarded a prestigious R01 grant of nearly $2.9M from the National Institutes of Health (NIH) to support a research project titled, "Circulating cell-free DNA methylation as an accurate tool for detection and clinical follow-up of glioma."
Gliomas are the most common type of primary brain tumors, accounting for nearly half of all cases. Gliomas often progress or recur in a more aggressive form, such as glioblastoma, which has a five-year survival rate of only 6.9%, according to the National Brain Tumor Society. Current methods of monitoring recurrence and progression rely on imaging, which is limited by its sensitivity as well as availability or feasibility for some patients. A research team led by Dr. Noushmehr will study a non-invasive approach known as "liquid biopsy," which utilizes DNA methylation to improve detection and surveillance of gliomas.
"We are thrilled to receive this grant from the NIH to support our research on circulating cell-free DNA methylation as a tool for glioma detection and clinical follow-up," said Dr. Noushmehr. "Our goal is to improve the sensitivity and specificity of glioma detection, and ultimately provide clinicians with insights into tumor biology that can inform treatment decisions and improve patient outcomes."
Liquid biopsy involves analyzing a patient's blood to detect circulating tumor DNA or other biomarkers that indicate the presence of cancer. By analyzing changes in DNA methylation patterns over time, Dr. Noushmehr's team aims to improve the accuracy of glioma detection and monitoring, allowing for more precise treatment decisions.
Dr. Noushmehr's work was also advanced through philanthropy, including more than $2 million in philanthropic resources from a family foundation and the Jeffries Center for Precision Medicine at Henry Ford Health to support early research that was key to obtaining the R01 grant from NIH.
The R01 grant is the most prestigious grant awarded by the NIH and is highly competitive, with less than 20% of applications receiving funding. The grant will allow Dr. Noushmehr's team to conduct a multi-year study to evaluate the efficacy of circulating cell-free DNA methylation as a tool for glioma detection and clinical follow-up.
For more information on brain cancer research in Henry Ford's Hermelin Brain Tumor Center, visit henryford.com/braintumors.
###
MEDIA CONTACT: mediarelations@hfhs.org