Cyndi's Story: Finding Joy in the Journey
Throughout breast cancer treatment, Cyndi's good-natured attitude never faltered.
When Cyndi Preiss was diagnosed in September 2017 with invasive ductal carcinoma of the left breast, she immediately sprang into action. After a pre-surgery meeting at the Henry Ford Cancer Institute where she was introduced to radiation oncologist Eleanor M. Walker, M.D., Cyndi was confident she was in the right place to receive care.
"Dr. Walker is a force of nature. When she says to you, 'I want you to do this', you do it," recalls Cyndi, a 49-year-old from Dearborn. "I will never forget: She grabbed my hands and said, 'I promise you, you will be okay.' And you can't help but believe that."
To the highest high
Four days after Cyndi's breast cancer diagnosis, her granddaughter, Helen, was born. "Here you go: the lowest low to the highest high. I just remember thinking, am I going to live to see her first birthday? Am I going to live to see her walk?"
Now a grandmother of two, Cyndi looks back on that moment with gratitude. "Because of Henry Ford, I've gotten to see these things. I have this necklace that says, 'Survivor Strong,' and my granddaughter always plays with it. I always tell her, 'One day, Helen, I will tell you the story.'"
That story of strength, perseverance and survival began Sept. 26, 2017, with Cyndi's first treatment: Surgery at Henry Ford West Bloomfield Hospital. Breast cancer surgeon Lindsay Petersen, M.D., and plastic and reconstructive surgeon Dunya M. Atisha, M.D., performed a lumpectomy with oncoplastic reconstruction and sentinel lymph node biopsy, as well as reduction on the other breast for symmetry during one procedure.
Cyndi went home that afternoon.
Surgery was followed by four rounds of chemotherapy at Henry Ford Medical Center - Fairlane with medical oncologist Irina Y. Dobrosotskaya, M.D., Ph.D.
After months of chemotherapy, Cyndi was finally ready to see Dr. Walker again and begin radiation at Henry Ford Hospital.
Cyndi, who has played hand bells at her church for 20 years, says even in anticipation of radiation therapy, her spirit never faltered. "Radiation is tedious, because it's every day. It was Monday through Friday, there were 34 treatments, but Dr. Walker really helped me," says Cyndi, "She told me how to take care of my skin. I normally burn very easily, but I had no burns because I did exactly what she said."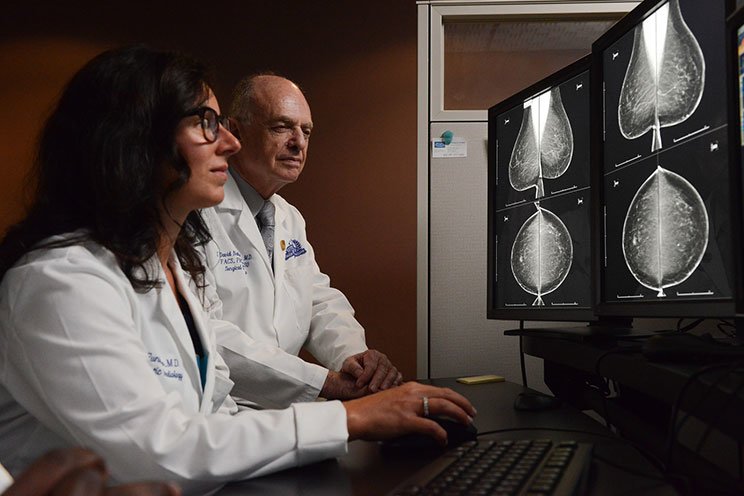 Expert Breast Cancer Care
We give patients access to the top surgeons and the most advanced science-based technologies and treatments.
With or without cancer, there is joy every day
As treatments progressed, Cyndi began to lose her hair. And in her true good-natured spirit, Cyndi embraced being bald.
"It made my mornings so much smoother. If it hadn't been so cold that winter, I would have walked around bald."
Cyndi encourages others diagnosed with cancer to find a way to continue forward.
"You figure out what really is important: It's living your life. It's your family. It's the people that love you and you love back. It's continuing. You don't have to let cancer shadow your life, it's just a chapter. It's one chapter in your life."