For many women with breast cancer, chemotherapy comes with a demoralizing side effect – hair loss. At Henry Ford Cancer Institute, one of the first women to fight back explains why she dug into her pocket for a cool cap, not a wig.
"I didn't want people to identify me as a cancer patient. I wanted to work, and I didn't want people to look at me and immediately see I'm battling cancer," says Laura Carey, a 51-year-old corporate director at a major health system in Southeast Michigan.
"My family and friends know I have cancer. But my personal relationships are more important than being a cancer patient, and I didn't want people to feel sorry for me," says Laura. "I like my relationships to be well rounded, not to focus on my health."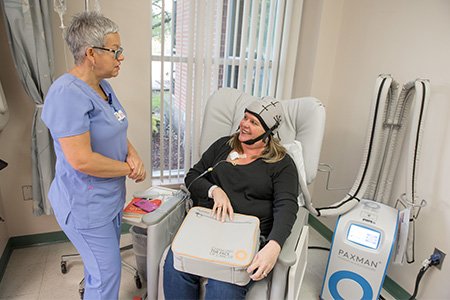 Before Laura had a lumpectomy for early stage invasive ductal carcinoma, she met with the multidisciplinary breast cancer tumor board at Henry Ford West Bloomfield Hospital to discuss her case.
"Hair was an issue – right out of the gate," she says. "I had two big questions, 'Will I need chemotherapy, and will I lose all my hair?'"
"'Yes and yes,' they told me," says Laura.
But someone had a good idea.
Jessica Bensenhaver, M.D., a breast cancer surgeon and director of the Breast Cancer Program at the Henry Ford Cancer Institute, told Laura about a staff nurse who had used a dry ice cap to prevent hair loss during her own chemotherapy. They called the nurse into a meeting.
Bottom line: The nurse kept 40 percent of her hair, and she felt the result was worth the out-of-pocket expense.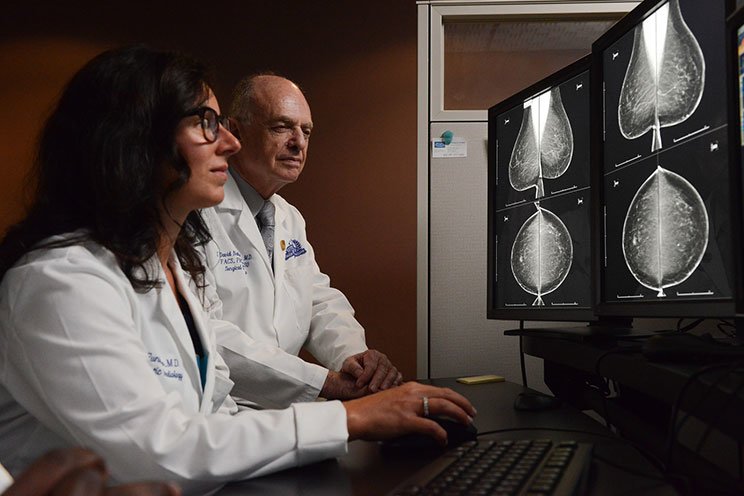 Expert Breast Cancer Care
We give patients access to the top surgeons and the most advanced science-based technologies and treatments.
Later, at the Henry Ford Cancer Institute where Laura was to receive treatment, Haythem Ali, M.D., a medical oncologist and the driving force behind the scalp hypothermia program at the Henry Ford Cancer Institute, discussed the new technology – one that did not involve dry ice and fluctuating cold temperatures.
In the meantime, Laura had heard and read stories about other women. "One person explained that she lost all the hair on her body within six weeks, and she was taking the same chemotherapy drugs that I would be receiving," says Laura whose chemotherapy treatment includes Taxotere, Herceptin, and carboplatin.
"That gave me anxiety for weeks," says Laura. "I worried that the doctors hadn't told me everything. But I also knew that there have been a lot of medical enhancements in the last five to 10 years."
Trying something new isn't unique for Laura. She has a big, active family that's involved in sports and lots of activities, so trying novel things comes somewhat naturally.
Still, Laura had another reason for her decision.
"My mom passed away from pancreatic cancer," says Laura. "She was always doing clinical trials. If she could help someone, she did. I thought – if she can do it, I can too."
"Laura is very motivated to keep her hair, and she has an optimistic attitude," says Connie Lass, RN, OCN, leader of the scalp hypothermia task force at Henry Ford.
Laura bought the Paxman Scalp Cooling kit online for a discounted price.
"Without hair, you have to buy a wig. So why not spend the money on keeping your hair," says Laura.
Although most insurance companies pay for wigs, some women don't have insurance, or they have to wait awhile for the wigs. Henry Ford offers women wigs donated by wig manufacturing companies and former patients.
When the cooling cap arrived, Laura and her sister Kristie studied the training videos. If the cap is not applied correctly, patchy hair loss may occur. Laura's hair is thin, straight, and shoulder length – a good combination for the cap.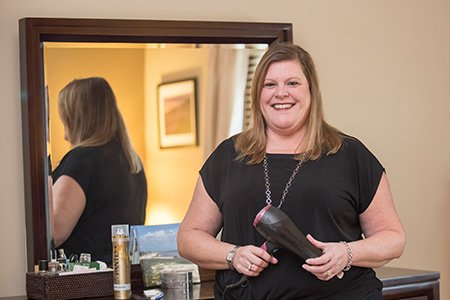 "The team at Henry Ford has been fantastic. The nurse read the handbook over and over again. She called the company to make sure that everything they were doing was correctly," Laura says.
"There will be some hair loss," says Connie. "We consider maintaining 50 percent of hair to be successful."
Chemotherapy kills cells that grow quickly. Along with cancer cells, it also kills other fast-growing cells in the hair follicles, stomach, intestines, skin, and bone marrow. Applying a cold temperature to the head constricts the blood vessels that deliver the chemotherapy, and it reduces the amount of chemo that reaches the hair follicles.
Before each treatment, Laura wets her hair and applies conditioner so it lays flat on her head. When her scalp is snug inside the cap, it is attached to a machine that maintains a constant 64 degrees. After 30 minutes of preliminary scalp cooling, the chemotherapy drugs are administered intravenously for 90 minutes. Afterward, Laura continues to wear the cap for another 90 minutes.
"I felt discomfort only for the first fifteen minutes. It's like an ice helmet on your head. Then my head just felt cold," says Laura. "For the last hour of the treatment, I put on a blanket.
"By the end of nearly four hours, my sister and I were counting down the minutes before I could go to the bathroom," Laura laughed. "In mid-session, you have eight minutes to go, but I didn't want to risk it."
Laura has had some side effects from chemo – nausea, diarrhea, fatigue, and rashes. "But looking at myself with hair every day makes it not so bad," says Laura.
"I'm pretty neurotic about hair loss. I've been counting the strands that I lose. With my type of hair and the medication I'm receiving, I was told I could expect the hair loss to occur after 17 days of the first treatment. On those days, I probably lost 20-25 strands of hair."
A person who is not receiving chemotherapy can lose about a hundred strands a day and still be fine. By the second chemo treatment, most women come in wearing caps or scarves because they've lost their hair.
"I began to worry that I'd start losing my hair, but the doctors and nurses said that if it was going to happen, it would have already happened," she says.
"I've been affected immensely by the cool cap. I came back to work a week after the first chemotherapy treatment, and nobody knew my health status. I can be out with friends and family, and they don't focus on the fact that I'm sick. Even though it's just the hair that they see, it may give them confidence that I'm still the same, or things are going to be OK."
For Laura, the cool cap is a good mood elevator. "I can only think of what it would be like if I'd lost my hair and didn't want to go outside my house. Getting out helps me stay connected with my family and friends.
"This experience is making me realize how many people have been in cancer treatment, and a lot of them don't know there's an option to prevent hair loss. You have to look at yourself every single day, and it's empowering to not have that image of yourself as being sick," she says.
Unfortunately, scalp cooling is not available for patients with metastatic cancer. These patients require ongoing chemotherapy to prevent cancer from travelling to different parts of the body, including the scalp.
Laura is looking forward to yet another new experience to close out 2018. This time it will be something fun – a family trip with her husband, daughters and son to Hawaii. She is set to complete her chemotherapy in early 2019.